Tag:Food Grade Beverage Processing Tank Yogurt Dairy Storage Mixing Tank
Features
1.Mixing oil and water phases materials in high speed to get perfect emulsion product of good quality.
2.Machine consists of vacuum-resistant vessel with jacket for heating and cooling. Equipped with high speed homogenizer, scraping agitator, vacuum pump, and hydraulic pump for lifting, heating & cooling system.
3.With vacuum pump to take the air bubbles out of mixed product, and extend the time of storage.
4.Scraping unit is with moveable teflon scrapers to scrape off the materials on the tank wall and the anchor to move the materials to the center area to get better blending and mixing. The teflon scrapers are maintained manually and easily without any tool.
5.Our vacuum emulsifying equipment equipped with heating & cooling system which simplifies the processing. Within this same equipment, you can do from heating-melting-emulsifying-air bubble reduction(by vacuum)-cooling without changing vessels, it saves lot of labor and time for your production.
6.All contacted parts of equipments are SUS316L,the product homogenized in vacuum and close vessel can be sanitary and high quality.
7.The measuring of raw materials, the recording of temperature for heating, melting, emulsifying, cooling, and the change of mixing speed, and the vacuum suction can be controlled.
Application
Cosmetic Industry: Cream, Lotion, Lipstick, Shampoo,etc;
Pharmaceutical Industry: Ointment, Syrup, Injection,etc;
Food Industry: Mayonnaise, Dressing, Jam, Butter, Margarine,etc;
Chemical Industry: Polyester, Synthetic Fiber,etc.
Technical Parameters
Model

Power(kw)

Speed(r/min)

Outlet

Thickness(mm)

Heating power(kw)

Off the ground(mm)

HD-100L

2.2

2800

DN40

2MMX2MM





12KW

300

HD-200L

2.2

2800

DN40

12KW

300

HD-300L

4

2800

DN40

15KW

300

HD-500

4KW

2800

DN40

18KW

300
Product Show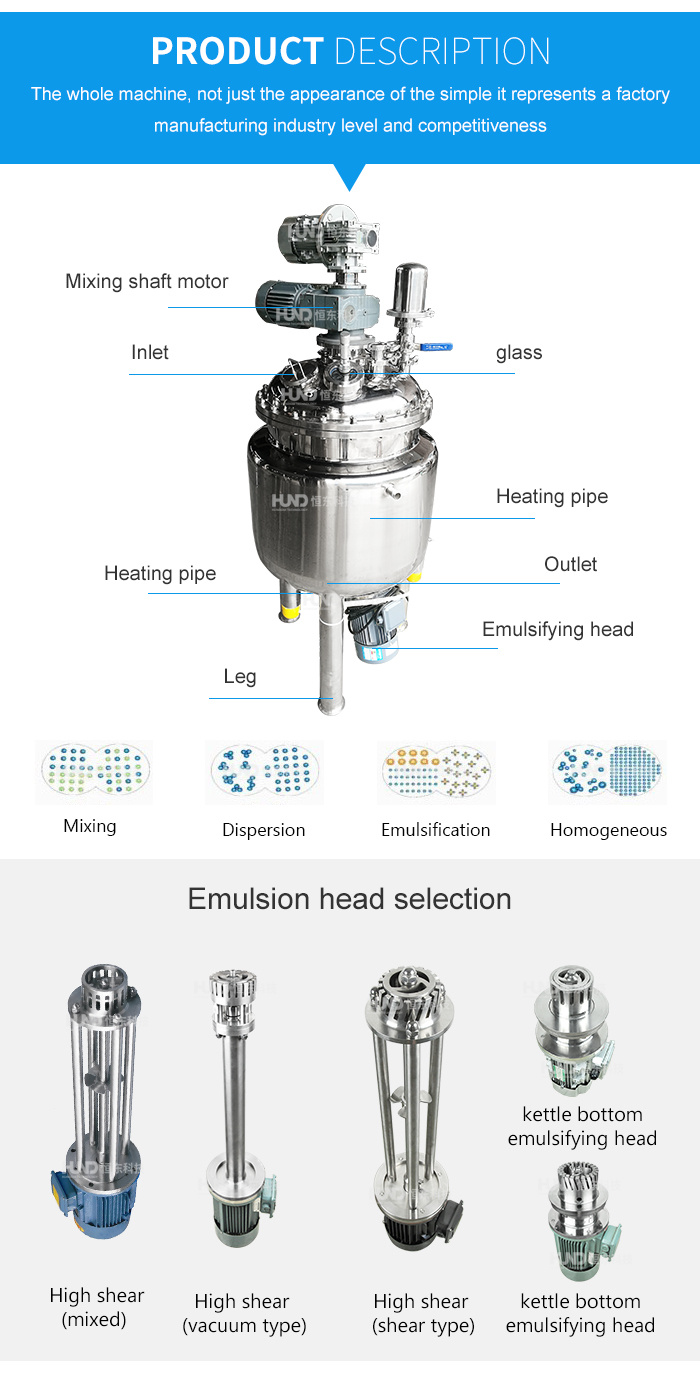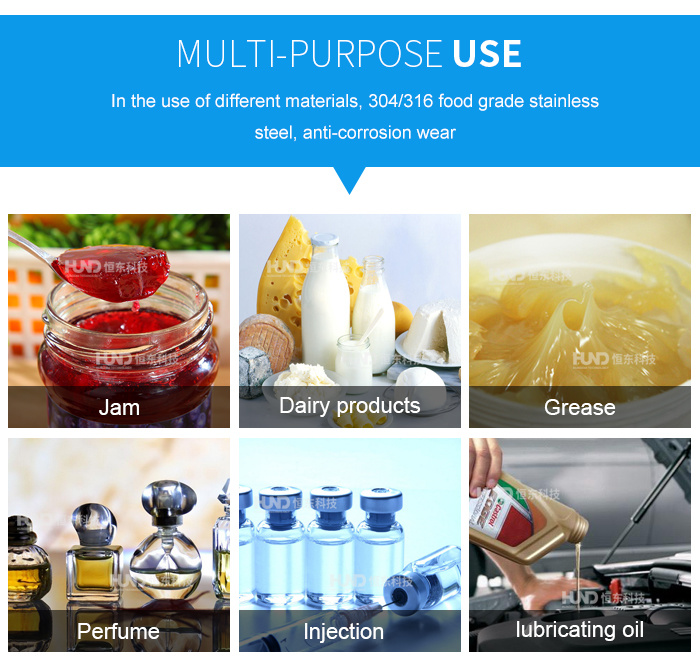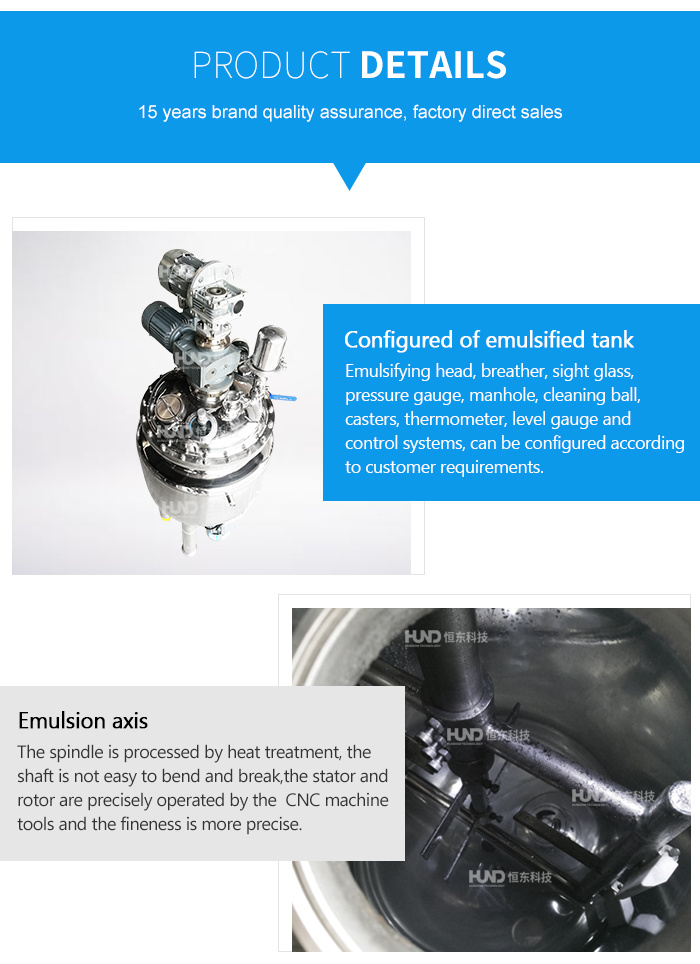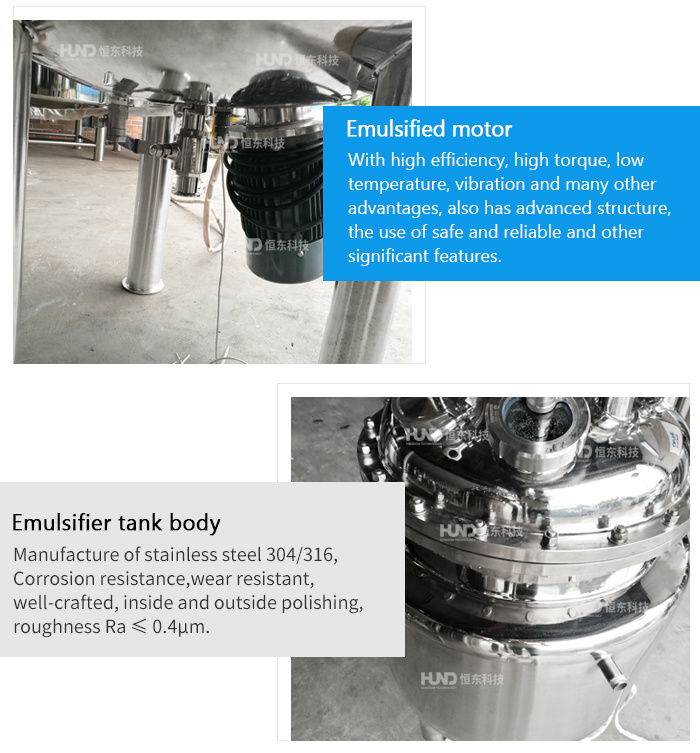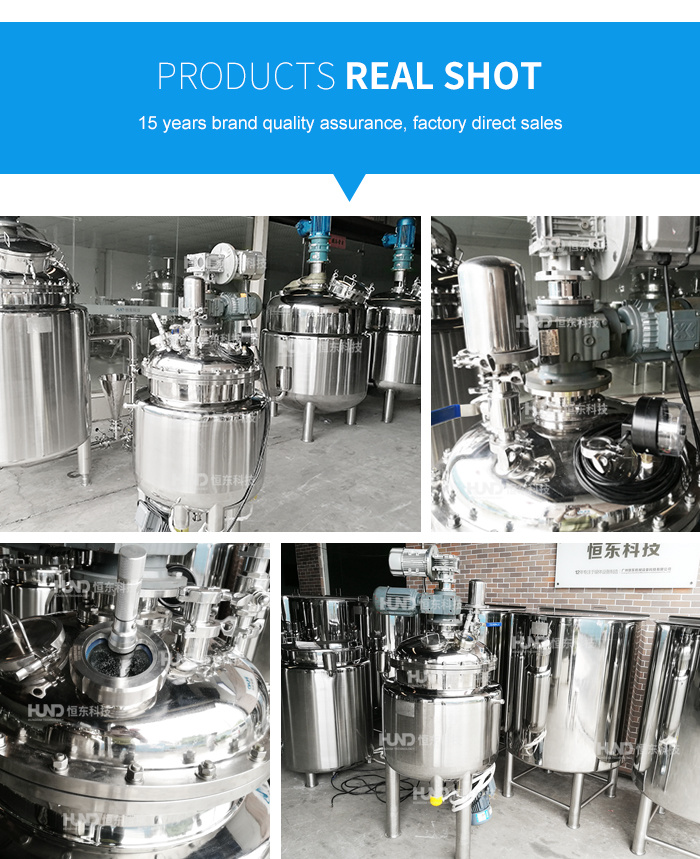 About HUNDOM
Guangzhou Hundom Machinery Equipment Co., Ltd. has been manufacturing

colloid mill,jacketed kettle, rotor pump, mixing tank and other machinery

equipment for 14 years , putting quality as our first consideration. We own a team with rich experience in the field, if you have any question, contact us for the professional answer.



Guangzhou Hundom Machinery Technology Co.,Ltd.
Add:No. 115, No. 7, Haina Industrial Park, Shibi Street, Panyu District, Guangzhou City, Guangdong Province, China
Sales:Shum
Tel:+86-020-89081205
Mobile:+86-138-2213-4643

Welcome to visit our factory !