FRP GRP Fiberglass Non Leakage Water Tank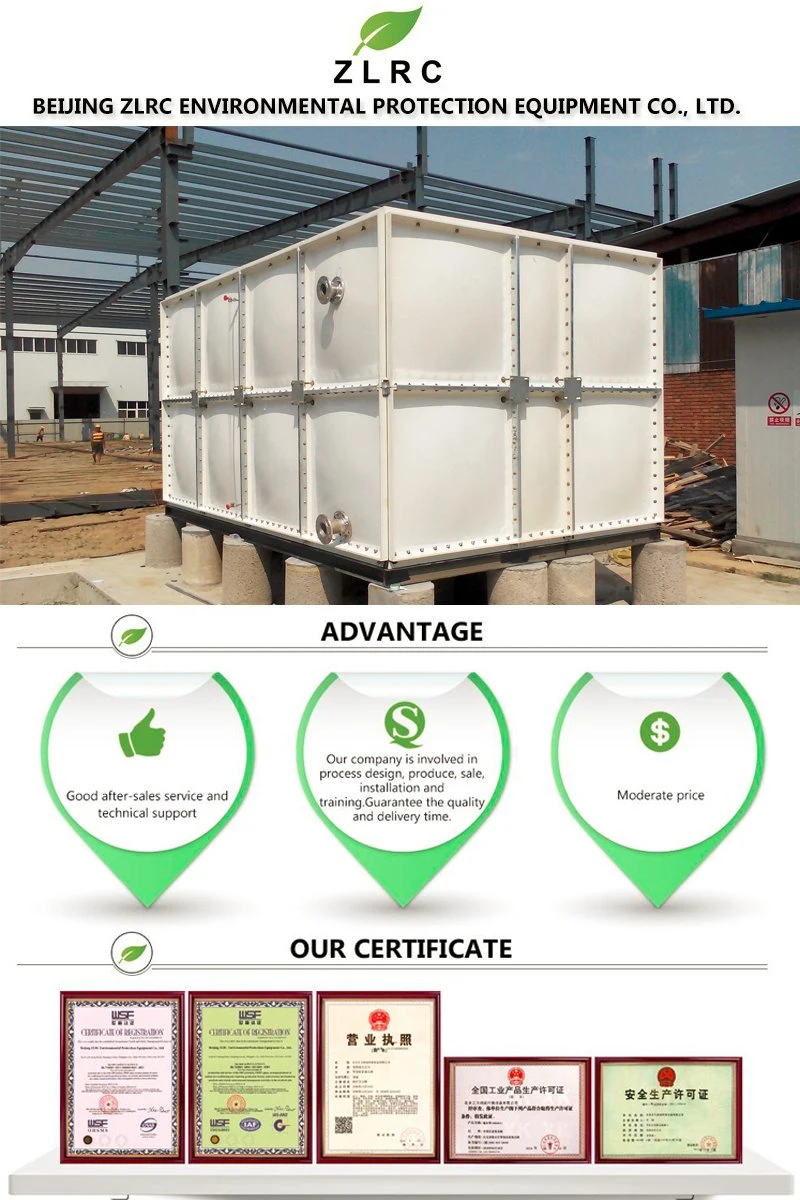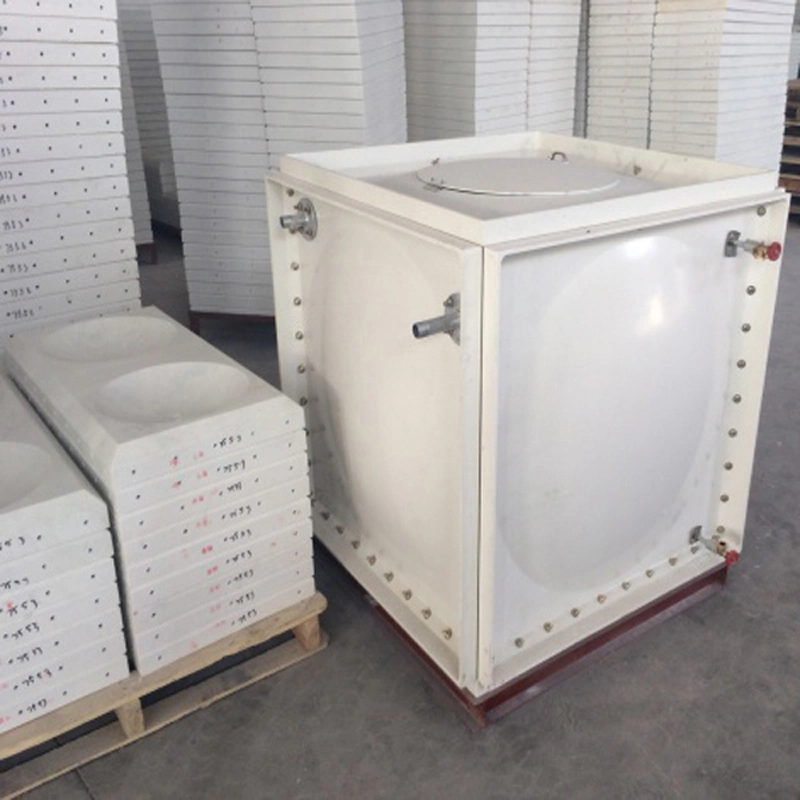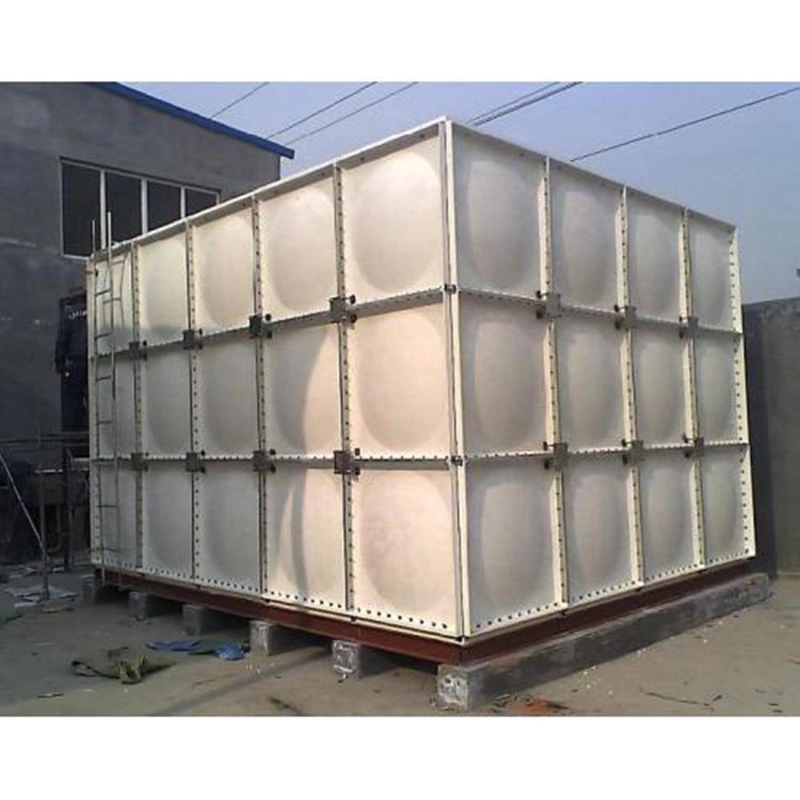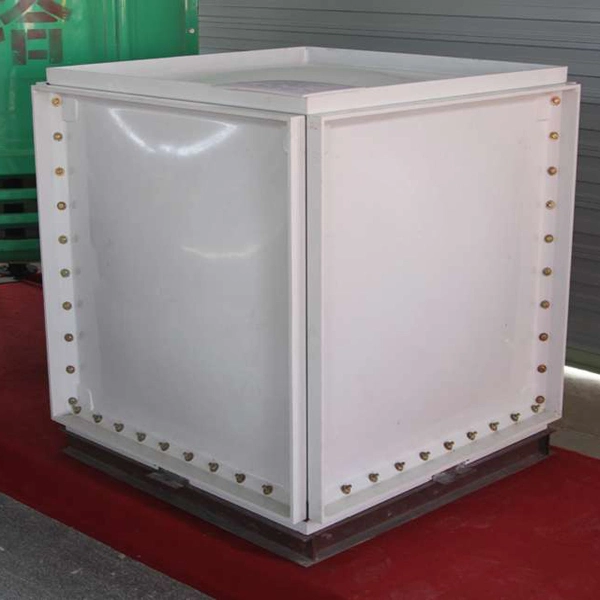 SMC combined water tank is assembled by moulding single panels, sealing
material
, metallic parts and
pipeline. Water tanks could be custom-made with capacity from 0.125m3 to 5000m3 according to your
needs. Generally the height should be no more than 4 meters, the length and width can be limitless.
SMC Water Tank Range Applications
1. Residential, commercial buildings, office buildings, residential areas, offices, hotels, schools and other life, firefighting;
2. Production and living water for both industry and mining;
3. All kinds of recycled water, cooling water and water for hot water supplying system;
4. Acid and alkali storage.
The SMC Combined Water Tank Structure:
The SMC combined water tank consists the SMC plate, sealing materials, structural article and the pipe system. The general water tank is standard design, the special water tank need to the special design.
Accessories and specifications
1. Support for Panels:
The panels shall be supported externally or internally by an adequate support system. External Reinforcement - Hot Dipped Galvanized Steel
Internal Reinforcement - Hot Dipped Galvanized or Stainless Steel 304 rod support and tie-rod
2. Sealing Materials:
Non toxic Rubber foam to be used for all jointing, it is especially developed with long experience and technology on SMC products. It maintains soft itself and adhesives even at low temperatures
3. Bolts, nuts and washers for the assembly of panels:
Exposed externally are hot dipped galvanized steel and in contact with water internally are hot dipped galvanized steel or stainless steel 304
4. Flange:
the flanges for inlet, outlet, drainage, overflow are hot dipped galvanized steel or stainless steel 304
5. Ladders:
SMC sectional tank of 1.5m depth or more shall be provided with internal ladder made up of materials same with the supports. The external ladders shall be galvanized mild steel or equivalent
6. Drainage:
The dome shaped bottom panel with a concave drain panel facilitates complete and fast drainage. The concave drain panel has been designed to ensure the periodic cleaning and inspection of tank
7. Overflow Screens:
it can be supplied with a screen overflow having a micro mesh filter
8. Man-hole opening & Inspection Hatches:
the size can be customized; normally it is supplied with a standard size of: 600 x 600mm. the opening can be designs of bolt, seal-tight locking arrangement
9. ABS roof vent with PE insect screen
10. Float level indicator, optional SS304 for internal and external support structure are available on request
The properties of SMC plate:
| | | | |
| --- | --- | --- | --- |
| Item | Performance indicators | Item | Performance indicators |
| tensile strength Mpa | >60 | compressive strength Mpa | >145 |
| Bending strength Mpa | > 100 | shear strength Mpa | >90 |
| flexural modulus Gpa | > 7.0 | impact strength KJ/M2 | >75 |
| Pap strength | > 60 | breakdown voltage Kv/mm | 10-18 |
| Water absorption % | <1.0 | volume resistance | >10 |
| Glass fiber content % | <25 | Shrink rate % | 0.157 |
Installs use matters needing attention:
1, SMC combined type water tank design to store up the normal temperature tap water before please do not store up the hot water and other liquids (chemicals, petroleum and so on)
2. Constructions, please press the foundation size request, the installment stays, provides the water which the construction power source and the inspection seal uses.
3. Must avoid nearby the water tank using the fire. When carries on the welding work, must take the protective measures, do not cause flake to splash to water tank stave sheet
4. Must prevent the pollutant or plunges in the water tank from the exterior inflow. Easy to inspect and in order to the security from the maintenance, must have certain spatial around the water tank
5. SMC combined type water tank's maintenance: Cleaning water tank interior and exterior please use the soft apparatus. The long time has not used water, before the use, please first water discharge, makes the inspection after the water tank interior uses again. New clothing's water tank, must clean twice times before using.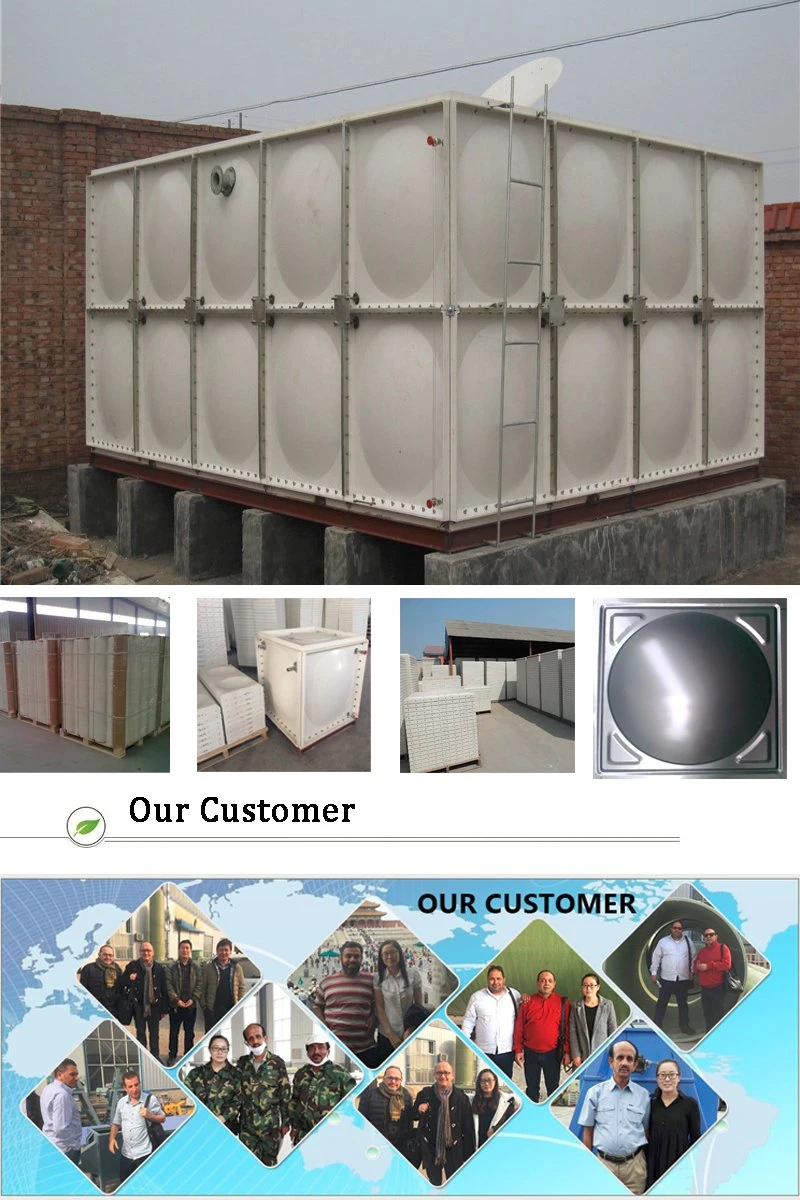 FAQ
1.What's the guarantee, in case the water tank breaks down?
The water tank has one year s guarantee. If it breaks down, generally speaking, our technicianwill figure out what the problem may be, according to client s feedback. Parts will be
replaced for free if the problems are caused by quality fault.
2.How about the documents after shipment?
After shipment, we ll send all original documents to you by DHL, including Packing List,
Commercial Invoice, B/L, and other certificates as required by clients.
3.How long is the delivery time?
For standard water tank less than 100m3, it would be 3-5 days; For non-standard water
tank and customized water tank according to client s specific requirements, it would be 15 to
30 days.
4.How's the payment?
Telegraphic Transfer(T/T).LC and western union are all acceptable
5.Do You Arrange Shipment For The Machines?
Yes, dear esteemed customers, for FOB or CIF price
.
For EXW price, clients need to arrange shipment by themselves or their agents.
6.How is the packing?
steel frame or
plywood Box Package with Steel Belt
Save space as much as possible for container loading
Company introduction
Beijing ZLRC Environmental protection
Co. Ltd., is a professional production enterprise specializing in the
production and design of the water tank.
Company's products include: fiber glass reinforced plastic water tank, stainless steel water
tank, enamel steel water tank, hot dip galvanized steel water tank, gush-paint steel water tank
and underground water tank.
Company tenets: quality first, customer first and best credibility! The same price with best
quality, the same quality with highest reputation!
The company has a professional after-sale service institution, each service branch are
provided with a fixed installation and after sale service personnel to ensure the user to get a
response from us in the first time.