20000L underground fiberglass fuel tank used mild steel and fiberglass material

Product Description
diesel tank is used for storing the oil diesel or other chemical liquid .double wall underground FRP fuel tank generally divided into vertical storage tank and horizontal tank, the material is carbon steel. According to the shape can be divided into cylindrical, square box, and spherical. Horizontal tank is by the end cover and the horizontal circular or oval tube wall and saddle, usually used in the production process or gas station. underground oil diesel tank volume is generally less than 100 cubic generally as round, oval, there are other irregular shapes.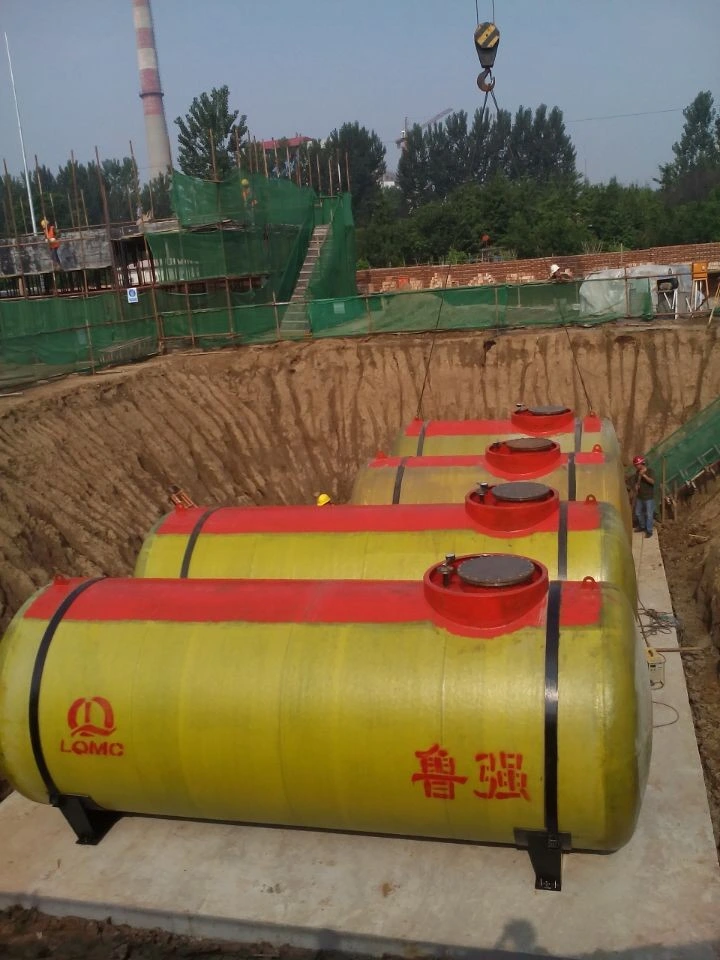 Technical details
1,pressure: the atmospheric temperature: - 19 ºC ~ 200 ºC
Medium: oil (petroleum chemical raw materials, etc.)
2, capacity:1 m3 ~ 100 m3;
Basic parameters and size horizontal tank
3, safety:
underground oil diesel tank wall ray, anti-static, fire control measures, according to the actual circumstance of engineering by unit of choose and choose and sanitation measures.
4, anti-corrosive:
Tank wall anti-corrosion measures shall be determined according to the tank storage medium, the outer wall corrosion protection measures according to pot of soil.
5.Type:the type can be horizontal or vertical ,it depends on customer need.
6.Layer:the storage tank can be single layer or double layer,it depends on customer need.
7. The capacity of oil diesel tank,we can design and manufacture from 1000liters to 100,000 liters ,it is according to the clients' need.
The accessory
Main accessories of 35000 lliters underground oil diesel tank:
· Ø 600 mm (or different dimension if specified by the purchaser) access manhole complete with gasket and bolted cover.
· Loading access port with lockable quick cap and overfill protection valve.
· Vent equipped with flame arrestor net.
· Suction line provided with foot valve and strainer.
· Aluminium-made dip stick calibrated gauge to measure manually the fuel level.
· Wide range of mechanical or electronic level gauges.
A wide range of pumps and fuel meters to meet a large range of requirements and applications. Optionally can be installed a fuel management system to control fuelling operations and tank level.

Leak monitoring systems of diesel tank:
· LAG14ER: is a leak detection system, connected to the double wall inlet connection. The interstitial space is filled with anti-freeze mono-propylene glycol solution, which is non-toxic and not-polluting.
· EUROVAC: Eurovac NV is a vacuum leak detector according to EN 13160-1 for Class 1. Through the suction hose the vacuum pump fitted in the leak detector generates a depression in the monitoring interstitium of the tank which is maintained constant in time. When a leak occurs in the internal or external wall of the tank, the depression lowers. On reaching the switching point, the red light "alarm" together with the audio alarm turn on.
· EUROPRESS: pressure type leak detector according to EN 13160 (class I) for safe monitoring of unpressurised double-walled tanks for the storage of inflammable liquids, AdBlue® (urea solution 32.5%) and non-inflammable, water-polluting liquids. Tanks may be located in safe or hazardous areas, either above or underground. The tank interstitial space is pressurised via an internal pump to 510mbar. A leak in either the inner or outer skin results in a pressure drop in the tank interstitial space, initiating a visual and audible alarm.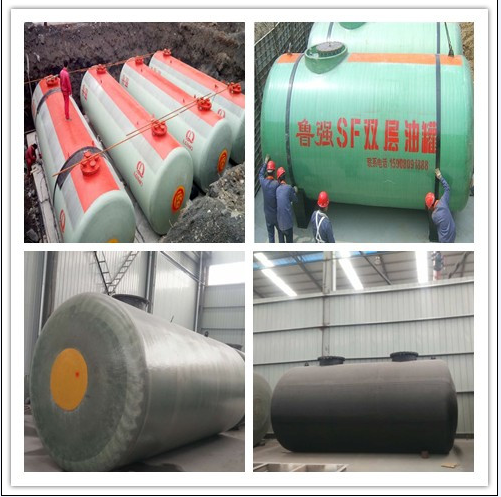 The shop drawing
We manufacture the underground oil diesel tank and install it for our clients ,the following is the pictures which we install on site.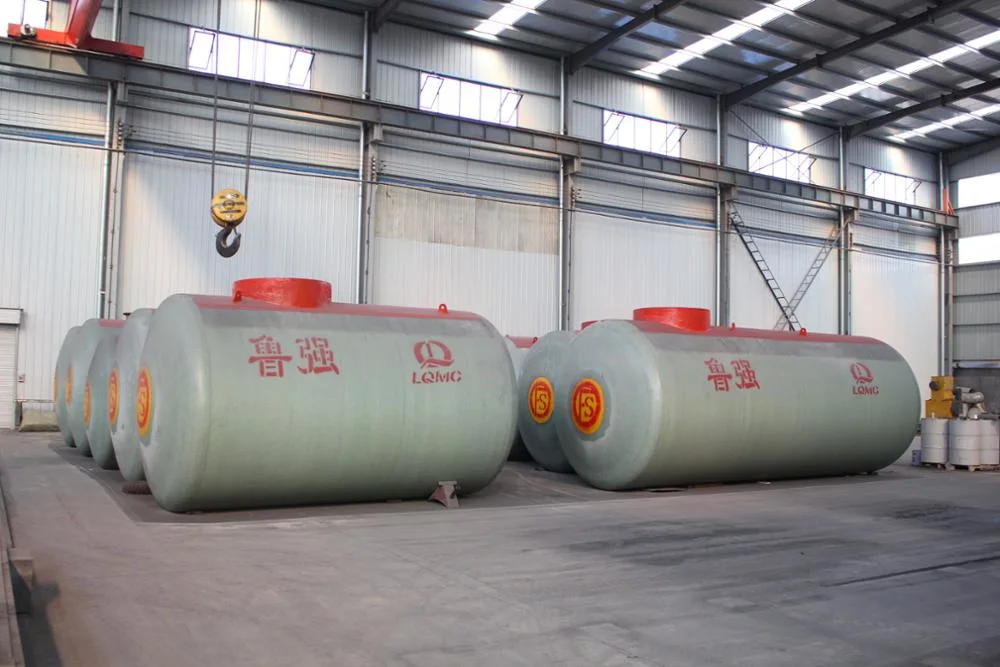 Advantage
UL certification 35000 lliters underground oil diesel tank
has so many advantage ,you can know it well by the following describtion
1 Security:
Inner - use 6 m thick - Q235B steel manufacturing, only 5 mm and the thickness of the ordinary, compared to single tank strength greatly increased;
Outer - reinforced fiber glass, thickness of 2.5 m or above, good compressive shock resistance. Have strong corrosion resistance, electrical erosion resistance;
Between the inner and outer layer adopts the unique technology, the gap to 0.1 m, from the source to eliminate hidden dangers exist. Senior leak detector 24 hours real-time monitoring, prevent leakage caused by the safe hidden trouble.
2 The economy is practical:
diesel tank service life of the oil tank 5 to 10 times that of ordinary tank, at least can ensure safe use of 30 years; The installation is convenient, greatly shorten the construction period, reduce the cost of investment;fiberglass fuel tank protection needs is 1/10 of the normal oil tank, greatly save the maintenance cost.
3 Environmental protection:
Double-layer structure, with 0.1 1 mm, outer FRP ensures leakage does not directly leakage pollution of soil and water. Outer FRP will have electrolytic corrosion phenomena and underground water, salt water, etc.
Others:
Except the underground tank,we also manufacture the iso tank container ,portable fuel station ,you can check the following picture the get more information.
Company introduce
Luqiang Energy Equipment co., LTD. founded in 2004, the company is in Tai'an City ,Shandong province,which is on the north of China.Company is specialty is engaged in the design, manufacture, installation of mobile fuel station ,gasoline tank,stainless steel tank,water tank and ISO tank container.
Company main product mobile petrol station ,
diesel tank,
carbon steel tank,iso tank container have exported to the United States, Japan, Australia,Africa more than 20 countries such as Nigeria, Saudi Arabia.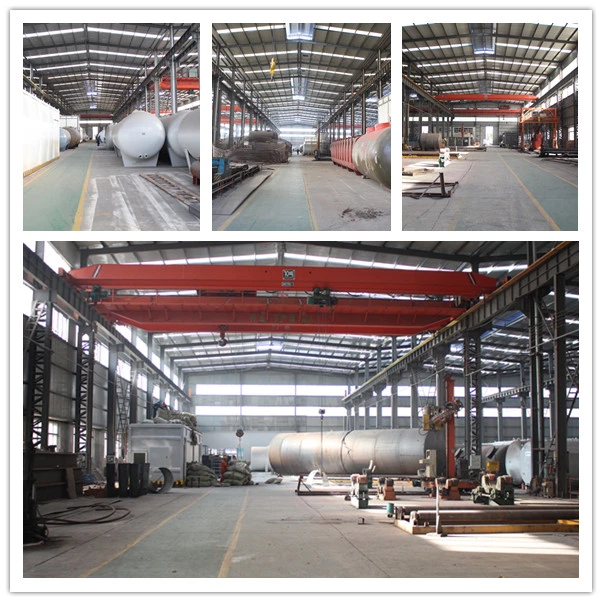 Certification:
Company strong technical force, well-equipped, advanced technology, detection means is perfect. Has a perfect quality assurance system,got UL certification and passed ISO9001 quality management system certification, ISO14001 environmental management system certification, OHSAS18001 occupational health and safety management system certification.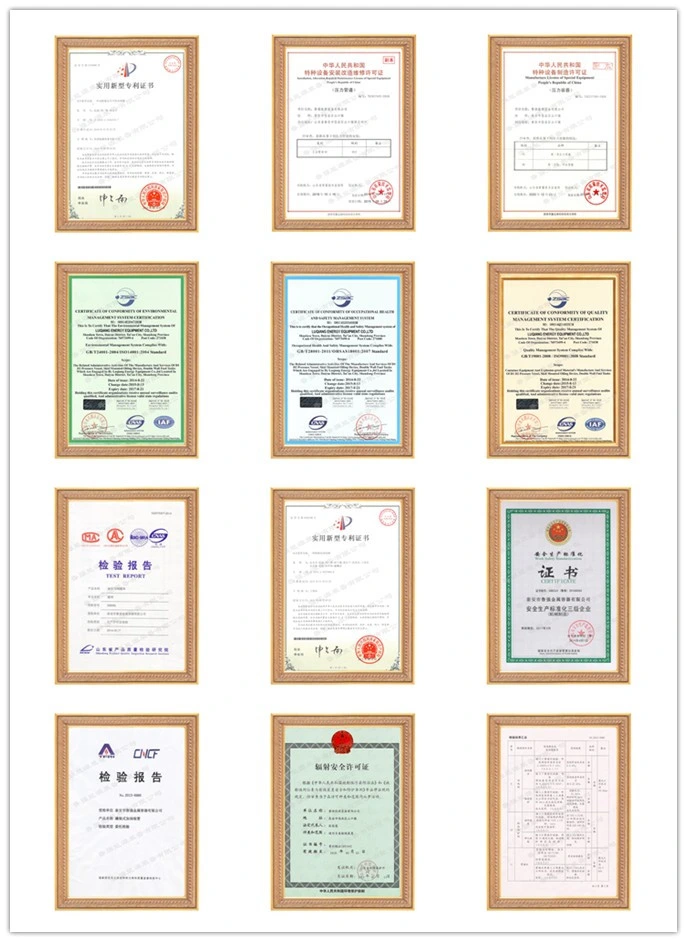 Clients visiting:
Every year so many clients come here visit our factory .
Why choose us :
1.We have the professional design team,we can design and manufacture the diesel tank as customer need.
We accept any drawing or sample to manufacture the oil storage tank.
2.We have 25years professional manufacturing experience in underground diesel tank ;
We have professional production workers and production equipment.
3.We have global after-sale service system,it can offer the Comprehensive technical support and after-sales service in a timely manner.
4.We get the ISO certifications and UL certifications,in this year we will get ASME certifiaction and CE certification.
5.We have widely market all over the world ,our product have export to Singapore,India,Australia,Japan,Nigeria, Angola,Djibouti,Ecuador,South Africa.
Contact details:
If you want to know more information about our products ,pls contact with me by following information