Large-Sized Lox/LNG/Lco2/LC2h4/Lh2 Cryogenic Liquid Storage Tank

1.Introduction:
The word cryogenics stems from Greek and means "the production of freezing cold"; However, the term is used today as a synonym for the low-temperature state. It is not well-defined at what point on the temperature scale refrigeration ends and cryogenics begins, but most scientists[2] assume it starts at or below -150 ° C or 123 K (about -240 ° F). The National Institute of Standards and Technology at Boulder, Colorado has chosen to consider the field of cryogenics as that involving temperatures below 180 ° C (-292 ° F or 93.15 K). This is a logical dividing line, since the normal boiling points of the so-called permanent gases (such as helium, hydrogen, neon, nitrogen, oxygen, and normal air) lie below 180 ° C while the Freon refrigerants, hydrogen sulfide, and other common refrigerants have boiling points above 180 ° C.
LOX/LIN/LAR CRYOGENIC STORAGE TANK SPECIFICATION

Items

Specification

Valid Volum

Working pressure

Dimension

Empty Weight

1

M3

MPA

Dia X L MM

KG

2

CFL-5/0.8

5

0.8

2100x4405

4200

3

CFL-5/1.75

5

1.75

2100x4405

4600

4

CFL10/0.8

10

0.8

2200x7065

6718

5

CFL-10/1.75

10

1.75

2200x7065

7950

6

CFL-15/0.8

15

0.8

2600x6520

8830

7

CFL-15/1.75

15

1.75

2600x6520

10509

8

CFL-20/0.8

20

0.8

2500x8820

10150

9

CFL-20/1.75

20

1.75

2500x8820

12866

10

CFL-30/0.8

30

0.8

2600x11070

14370

11

CFL-30/1.75

30

1.75

2600x11070

14370

12

CFL-50/0.8

50

0.8

3000x12685

25036

13

CFL-50/1.75

50

1.75

3000x12685

29347

14

CFL-100/0.2

100

0.2

3500x17200

33576

15

CFL-100/0.8

100

0.8

3500x17200

42394

16

CFL-100/1.75

100

1.75

3500x17200

50305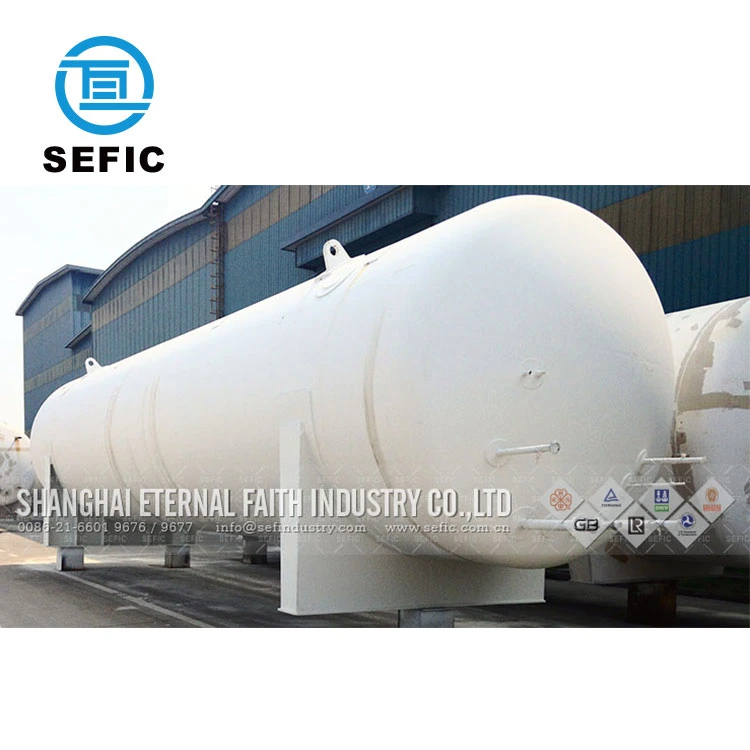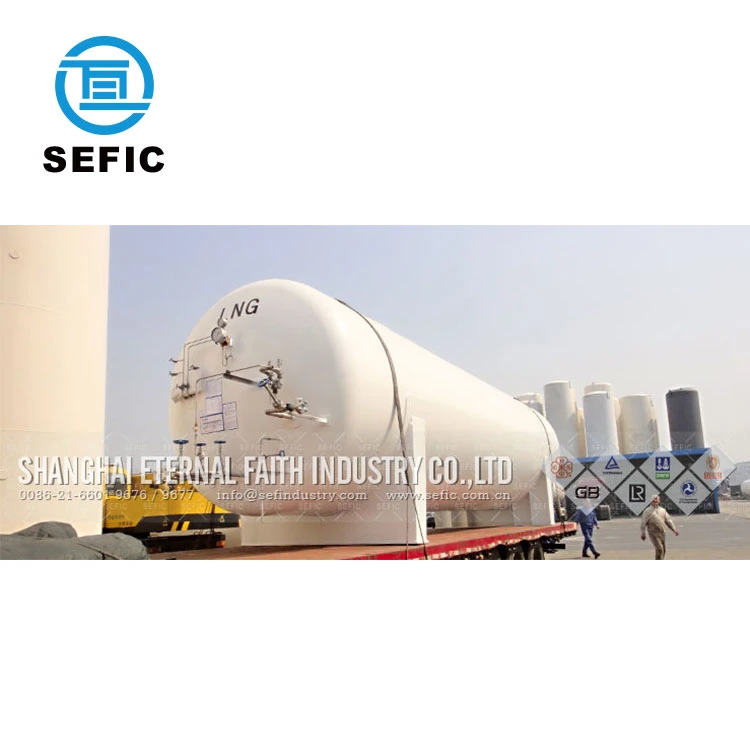 Cryogenic Process:
The field of cryogenics advanced during World War II when scientists found that metals frozen to low temperatures showed more resistance to wear. Based on this theory of cryogenic hardening, the commercial cryogenic processing industry was founded in 1966 by Ed Busch. With a background in the heat treating industry, Busch founded a company in Detroit called CryoTech in 1966 which merged with 300 Below in 1999 to become the world's largest and oldest commercial cryogenic processing company. [citation needed] Busch originally experimented with the possibility of increasing the life of metal tools to anywhere between 200%-400% of the original life expectancy using cryogenic tempering instead of heat treating. This evolved in the late 1990s into the treatment of other parts.
Cryogens, like liquid nitrogen, are further used for specialty chilling and freezing applications. Some chemical reactions, like those used to produce the active ingredients for the popular statin drugs, must occur at low temperatures of approximately 100° C (about -148° F). Special cryogenic chemical reactors are used to remove reaction heat and provide a low temperature environment. The freezing of foods and biotechnology products, like vaccines, requires nitrogen in blast freezing or immersion freezing systems. Certain soft or elastic materials become hard and brittle at very low temperatures, which makes cryogenic milling (cryomilling) an option for some materials that cannot easily be milled at higher temperatures.
Cryogenic processing is not a substitute for heat treatment, but rather an extension of the heating - quenching - tempering cycle. Normally, when an item is quenched, the final temperature is ambient. The only reason for this is that most heat treaters do not have cooling equipment. There is nothing metallurgically significant about ambient temperature. The cryogenic process continues this action from ambient temperature down to 320 ° F (140 ° R; 78 K; 196 ° C). In most instances the cryogenic cycle is followed by a heat tempering procedure. As all alloys do not have the same chemical constituents, the tempering procedure varies according to the material's chemical composition, thermal history and/or a tool's particular service application.
2.Storage Tank Workshop




3.Company Profile
Located in Shanghai, SEFIC is a professional supplier of gas and gas equipment. Founded in the 90s, the company has already accumulated enough experience and became one of the best suppliers of all kinds of gas and gas equipment. Besides, it is one of the earliest in the country to gain the License of Pressure Vessel Type A2 and C2, ISO9001 and ISO14000 Certification, Private Hi-Tech Enterprise, Hi-Tech Enterprise, and Special Equipment Manufacture Permission. We almost can supply all kinds of gas cylinders with TUV, TPED, CE and DOT certification.
SEFIC certificate of the gas cylinder
We have more than 30 years experience in gas equipment industry and have gained a sound reputation all over the world. Our products have served customer satisfaction from more than 50 countries all over the world. So far, our business has expanded globally to countries and regions such as the US, EU (mainly Germany, Portugal, Romania and Bulgaria), South America (mainly Chile, Peru and Bolivia), and Africa (mainly Angola and South Africa).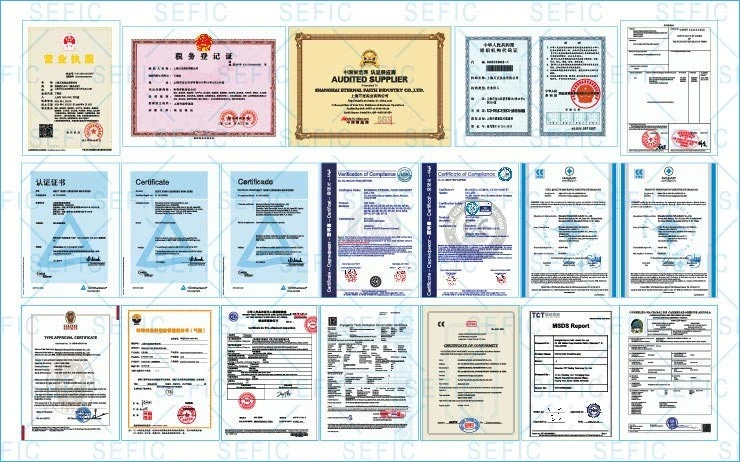 SEFIC gas cylinders have served customer satisfaction from more than 50 countries
We also put the common steel cylinder samples in our headquarters office for the convenience of customers to view samples and know more product information of SEFIC. If you need the relevant product information of steel cylinders or aluminum cylinders, catalogues and samples are provided; Any call or emails are welcomed, or you can also visit SEFIC official website: cnsefic.en.made-in-china.com or leave messages on the product page, SEFIC will be happy to serve you!
SEFIC gas cylinder sample display area
SEFIC has rich experience in business operating and management, and own capability of processing various gas cylinders.SEFIC have adopted certifications of ISO by International Standardization Organization, DOT of America, TC of Canada, TUV of Germany, KGS of Korea and some other certifications. Adhering to the Corporate Philosophy of " regard quality as credit, credit as brand and brand as life", and "Repeat simple things, do repeated things with heart, quality goods comes out of concentration". With safe and dependable products and quality service, SEFIC has established good corporate image and won recognition and praise of the industry.


General situation of SEFIC gas cylinder production workshop
In the year 2005, we strove to realize transformation and global market expansion by growing from a gas equipment manufacturer into a gas project solution supplier and set up overseas marketing teams in our headquarters.By providing gas equipment and technology support to several establishments of new ,plant, we thrived the growth of the company.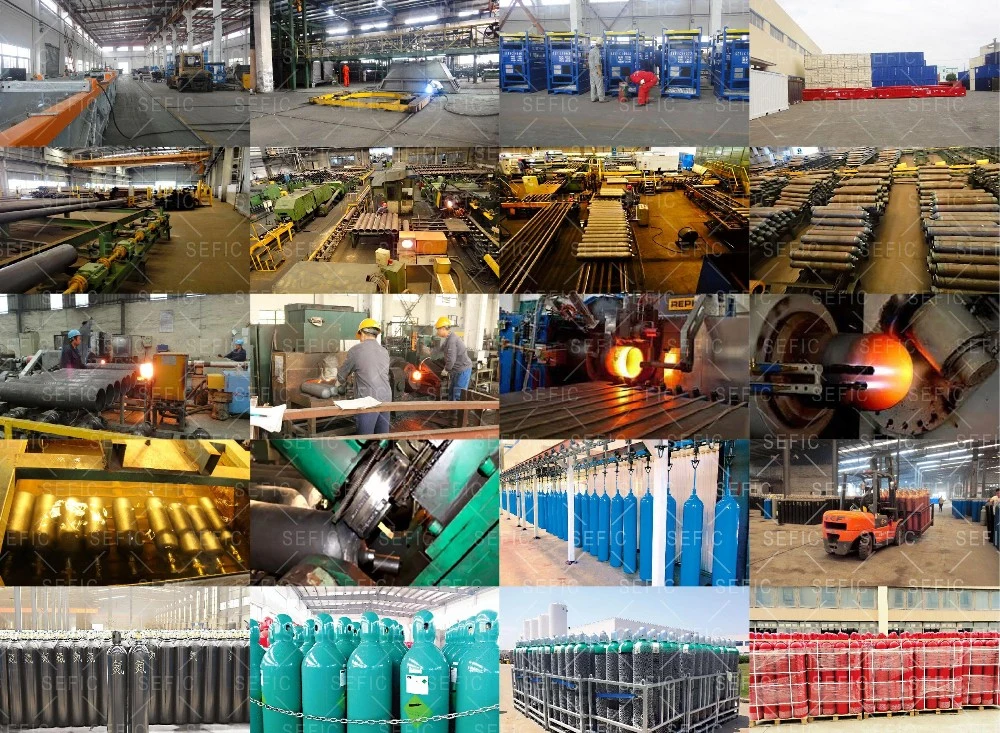 SEFIC sales team for foreigners
With high-quality products, competitive prices, fast delivery time and superior service, SEFIC won the customer's trust and praise. Since 2005, SEFIC has established trade relations with more than thirty thousand customers in more than 50 countries and regions. Many of our VIP clients have visited SEFIC repeatedly and discussed the regional agency service with us. Currently, SEFIC has established product agency services with clients in Italy, Saudi Arabia, South Africa, Uganda, Cambodia, Kuwait, Iran, Malaysia and other countries and regions.Cooperation with SEFIC, we have the following advantages:
HIGH QUALITY
SEFIC has implemented a strict and complete quality control system, which ensures that each gas cylinder can meet quality requirements of customers, and all cylinders have been strictly inspected before shipment.
LOWER PRICE
SEFIC always supply the lower price! We never stop trying to find new ways to reduce the gas cylinder cost, so that we can offer our customers a competitive price. Cooperate with SEFIC, Choose a Trustworthy Partner!
QUICK DELIVERY TIME
We are committed to work hard to ensure that every shipment of the gas cylinders are safe, punctual arrival, we have a lot of partners which always provide the most rapid means of transportation.
GOOD SERVICE
SEFIC has different series and models, for different standards in different countries, and we are committed to providing the best service. Cooperate with SEFIC, Choose a Trustworthy Partner!
ORIGINAL Manufacturer
Cooperation with SEFIC to achieve the sales relationship from the manufactory to the customer, can improve the production and delivery efficiency of the gas cylinder.
LARGE OUTPUT
SEFIC has professional equipments for gas cylinders. We have the capability to produce more than 50, 000pcs of Gas Cylinders per month.
EXPORTING Experience
SEFIC has implemented a strict and complete quality control system, which ensures that each gas cylinder can meet quality requirements of customers, and all cylinders have been strictly inspected before shipment.
OEM ACCEPTED
We accept OEM work, SEFIC can manufacture gas cylinder handle, gas cylinder cap, gas cylinder valve, gas cylinder Mark and gas cylinder color as your required.
4.Contact Us
Manager: David
Tel: 0086-21-6601 9677
M.P: 0086-180 1766 2601 Fax: 0086-21-6601 9679
Web: cnsefic.en.made-in-china.com
ADD: NO.6598., Hutai Road, Baoshan district Shanghai, China 201908