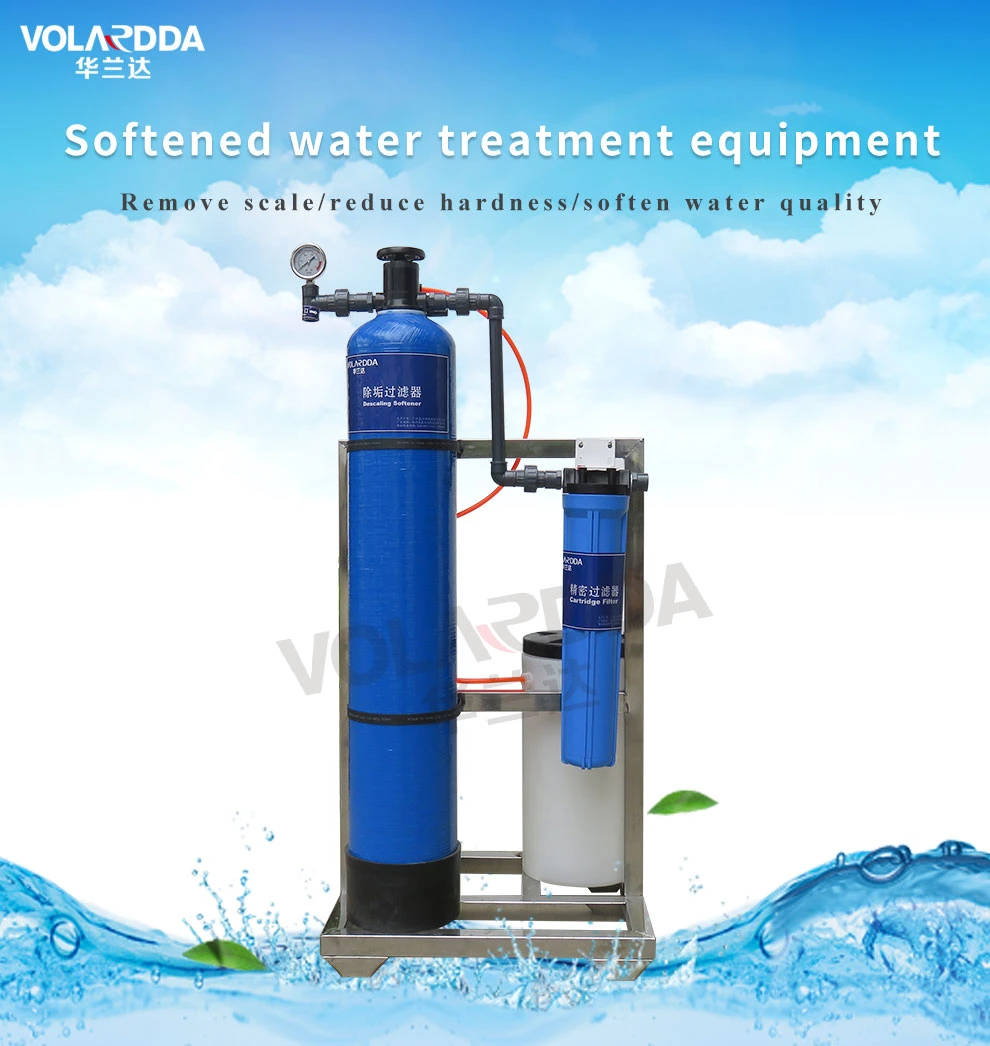 Introduction

Water softener is called as ion exchange water softeners. Its principle is using sodium cation exchange resin to remove calcium and magnesium ions in water and reduce raw water hardness in order to soften hard water and avoid carbonates fouling in the pipeline, container and boiler etc.,

Working principle

Mainly to release Na-ion by resin, adsorb Ca and Mg ion in water, in order to lower hardness in water, and make regeneration recovery after resin is saturated and invalid.

Parameters
| | | | |
| --- | --- | --- | --- |
| characteristic | Soften water quality | After-sales Service | Video technical support |
| Material | FRP or stainless steel, Stainless Steel 304 or FRP | Applicable Industries | Manufacturing Plant, Machinery Repair Shops, Food & Beverage Factory, Restaurant, Food Shop, Construction works , Energy & Mining, Food & Beverage Shops |
| control mode | Fully automatic and manual | size | As demand |
| Weight | As demand | Usage | Reduce Hardness |
| Brand | Volardda | Processing | Water Treatment System |

How does water softener work?
Water Softening Process
Hard water enters the water softener system. As it passes through the resin inside the tank, the hard water minerals are attached to the resin and the water is softened to service the home.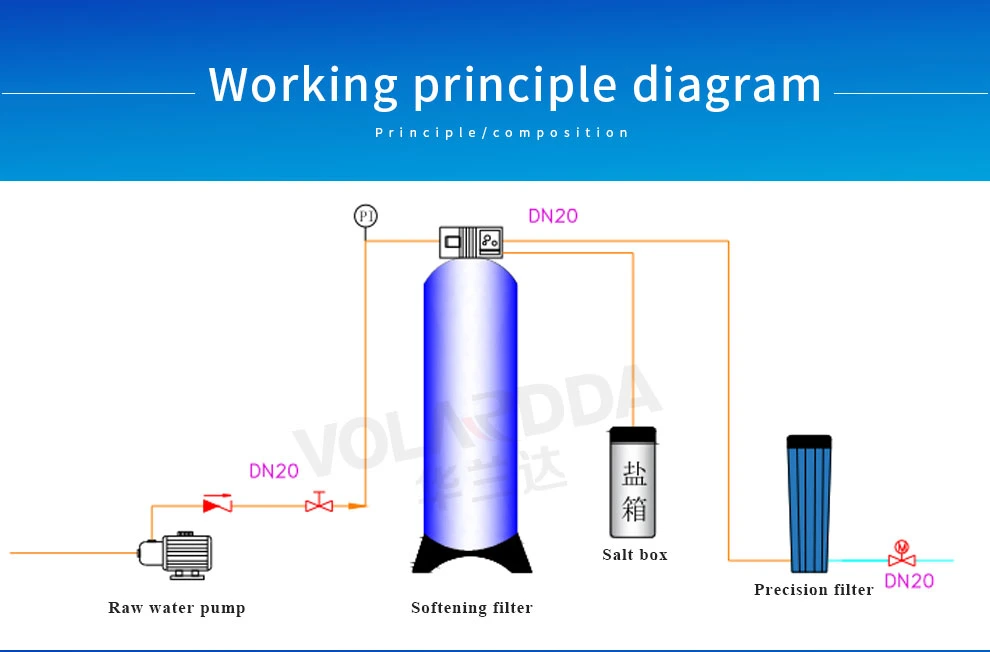 Features

Food-grade device, Remove hardness of water
NO chemical regeneration
No hazardous waste discharge , be good for protecting environmental
Continuous operation , simple operation
Easy installation , maintenance and maintenance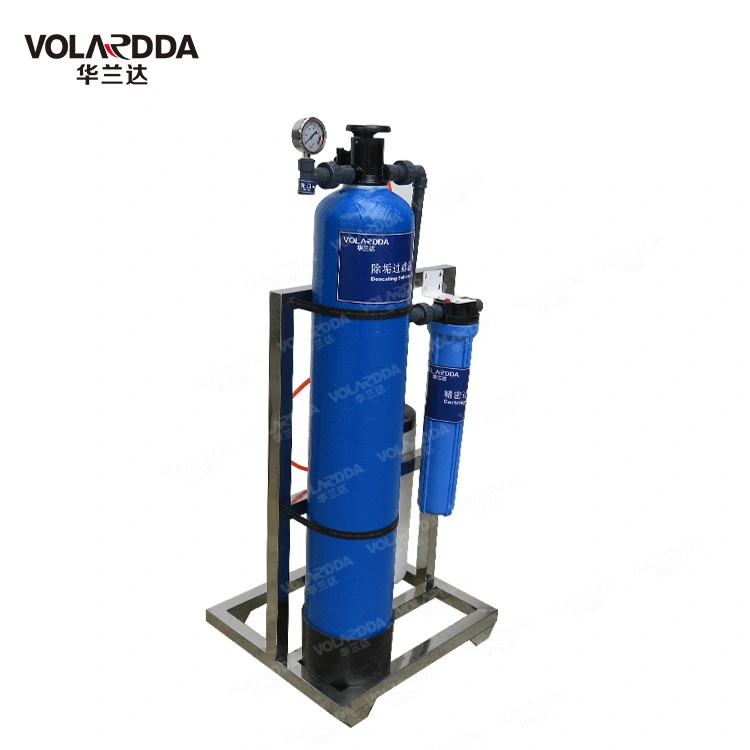 The difference between soft water and hard water
"Soft water" and "hard water" refer to the content of magnesium carbonate and calcium carbanate in the water.
The hardness of the water is too high, and the taste is not good. The water will easily produce white sediment-like scale; If scale enters the human body it will also affect the human health, because the scale cannot be absorbed.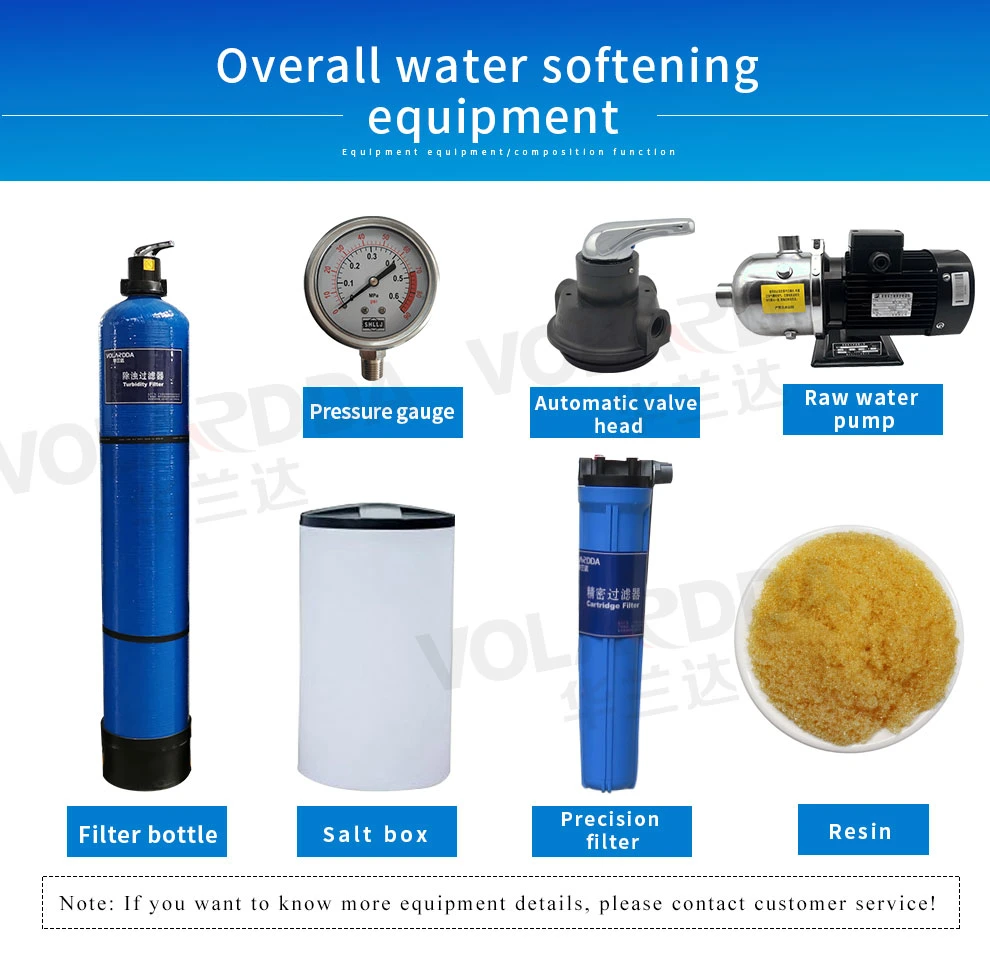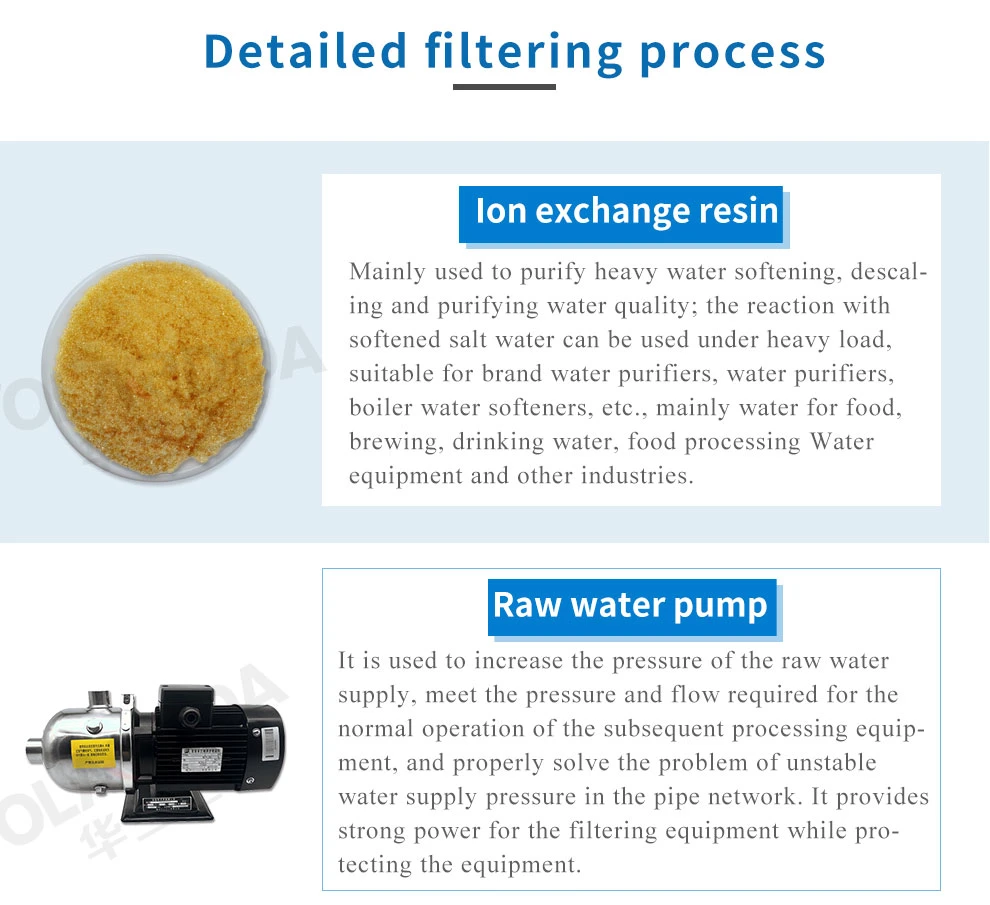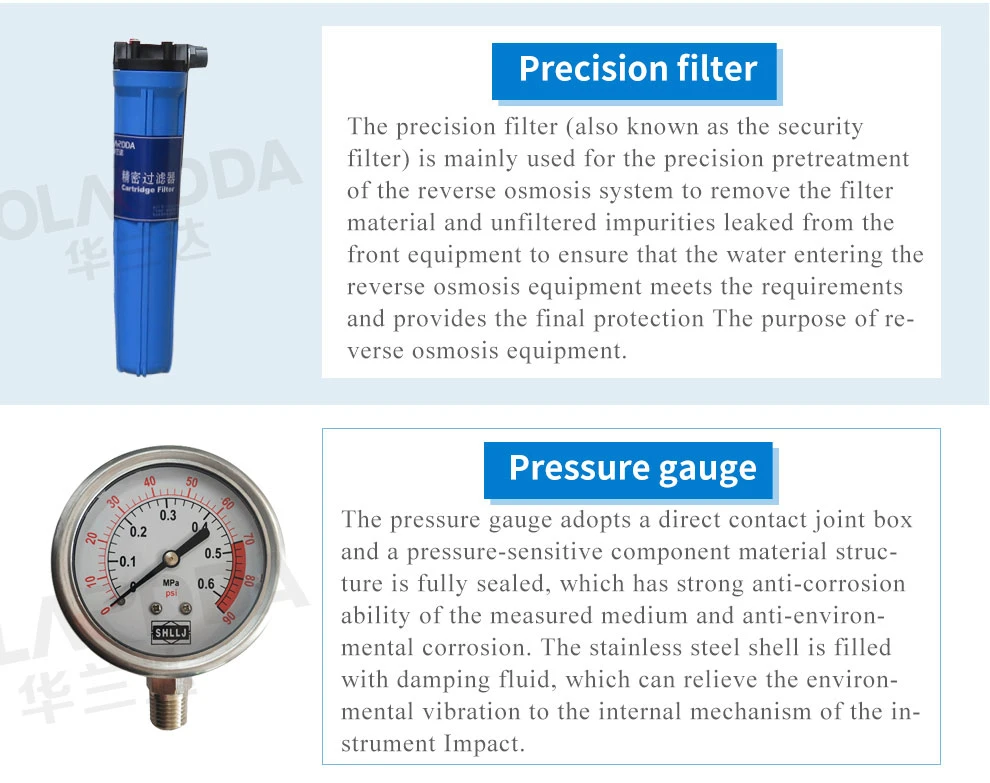 Regeneration Process

When the resin becomes saturated with hard water minerals, the water softener system goes automatically into regeneration. This is the process that frees the resin of hard water minerals, making it ready to soften the water again.

Brine water is drawn into the tank and rinses the hard water minerals off the resin and down the drain. Once the resin is free of hard water minerals, soft water rinses the remaining brine water out of the system leaving the system ready for service.

A water softener system assures that there is always soft water available. The water softener system automatically switches the flow to the fresh second tank while the tanks is regenerating. Thus, the system always delivers soft water without interruption.

Advantage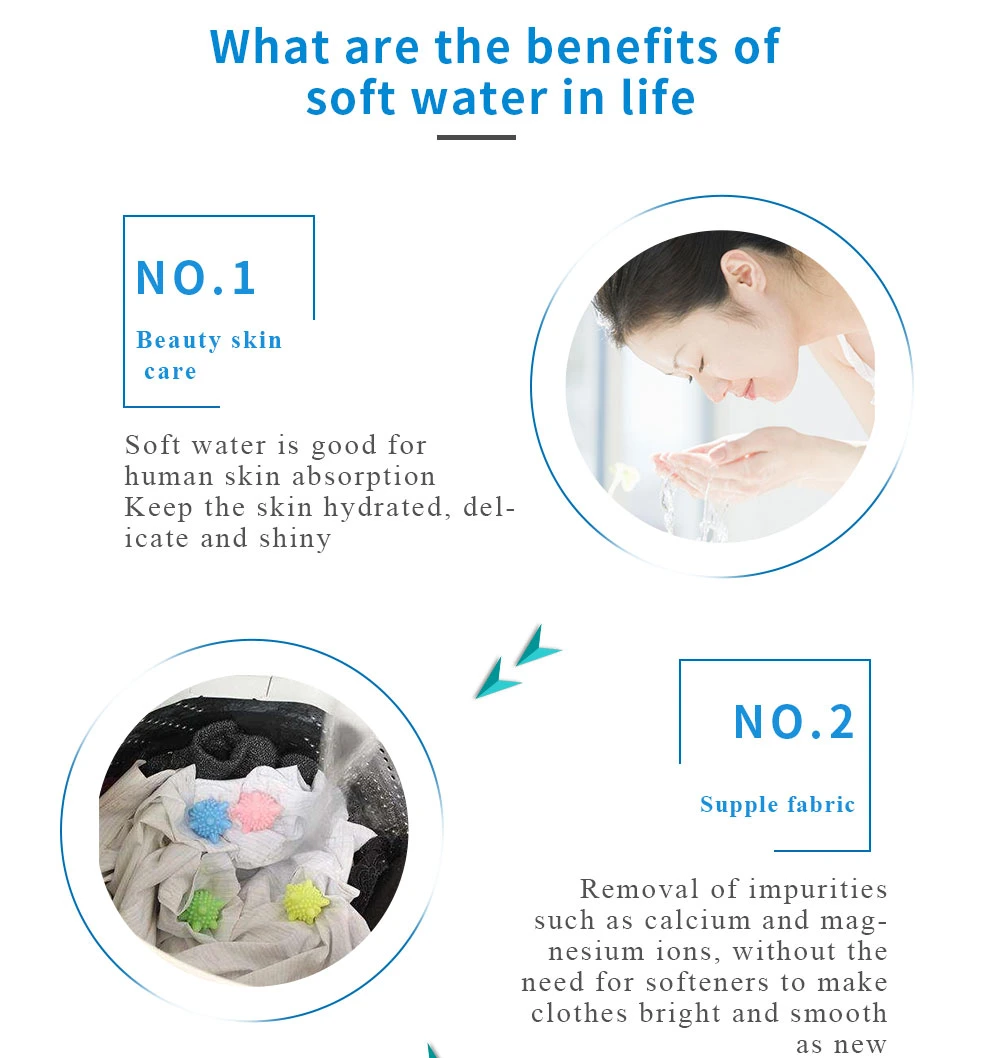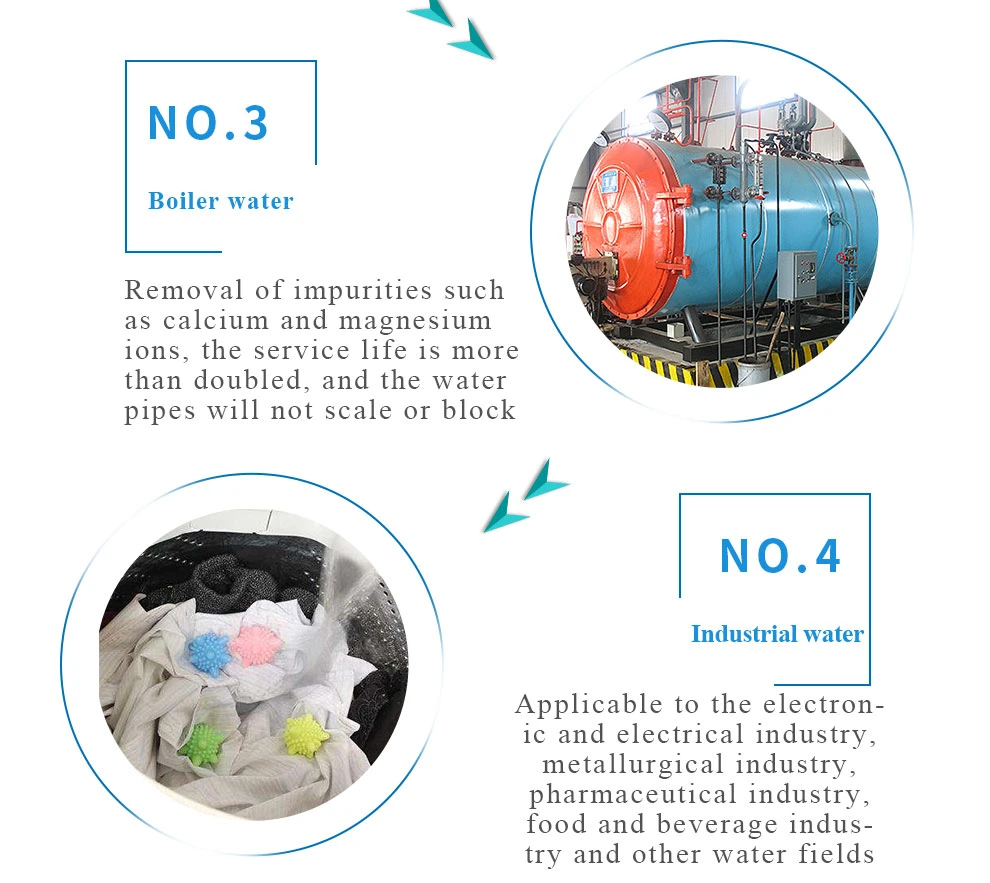 Water softener Application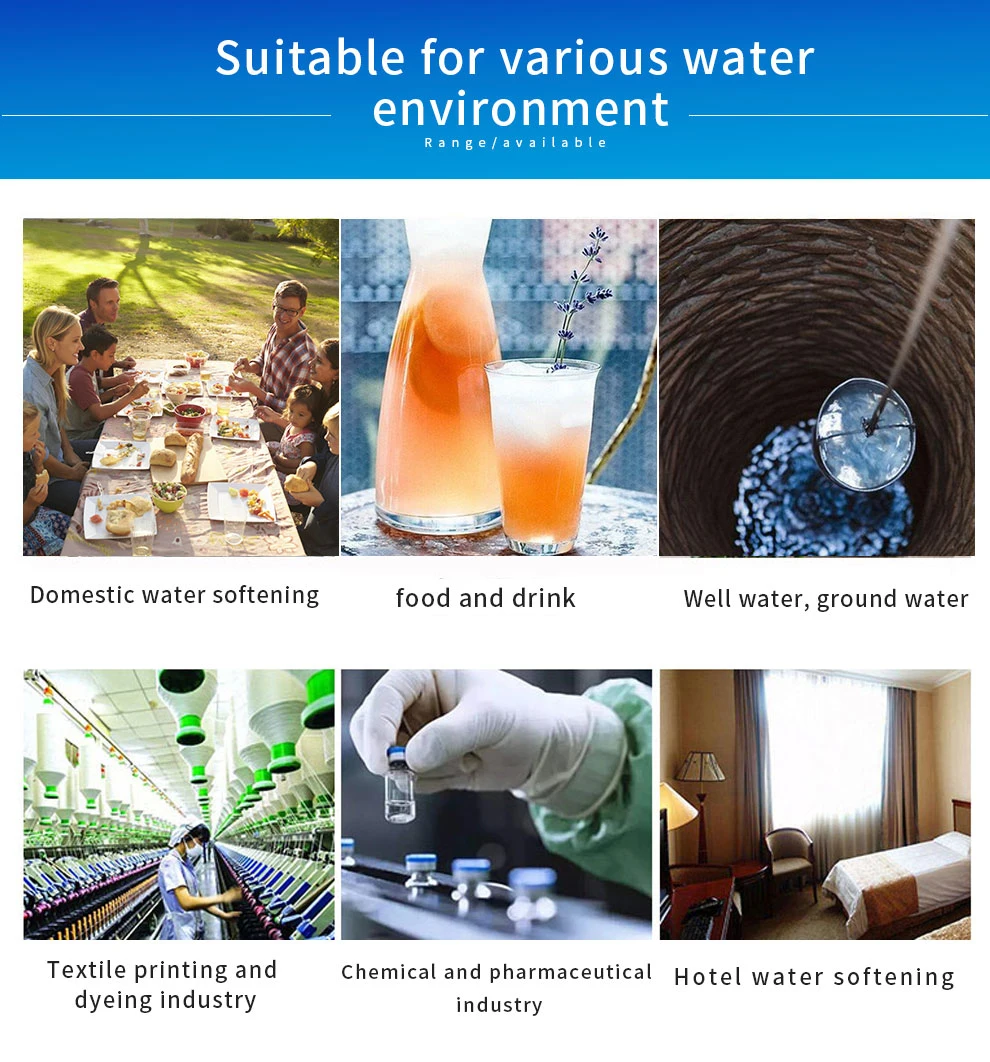 Mainly used to boiler, thermal power station, chemical industry, light industry, spinning, medicine, biology, electron, atomic energy and process of pure water treatment, water softening in industry production, preparation of deionized water, and more use to decolor and purification of food and medicine, recycling of precious metal and chemical material, and treatment of waste water etc.,

Guangdong Volardda Water Purification Equipment Co., Ltd is located in Guangzhou Nansha Free Trade Zone, and our factory area more than 5,000 square meters. Volardda is a new intelligent direct drinking water equipment technology manufacturing enterprise integrating R&D, design, manufacturing, installation, operation and service.
The main products of our Volardda are: Reverse Osmosis Systems,EDI Systems,Water sterilization products,
p
ure water tank,Drinking Water Filling Machine,
Household
ro system,Pretreatment
Systems,
Ultrafiltration Systems,
Water Softeners,
Water treatment accessories etc. We have provided overall water treatment for more than 1,200 customers solution.
What's more, our products have been exported to Southeast Asia, the Middle East, Africa, America, Australia and many other countries for many years. With profession team, unique design, high-quality products, and perfect after-sales, we can firmly established the Volardda water purification brand !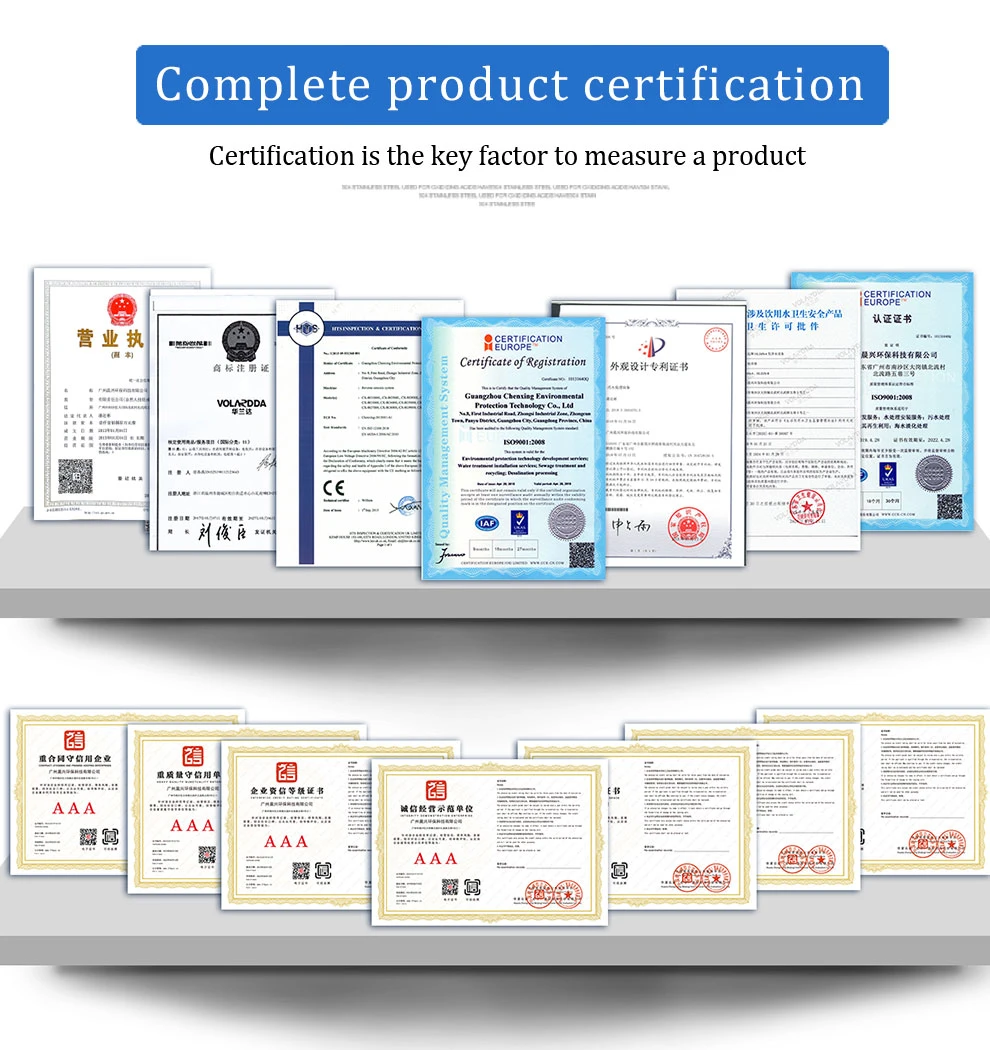 FAQ
Q: Are you a factory or trading company?
A: We are factory producing water treatment equipment and have been set up for 8 years.
Q: Where is your factory?
A: Our factory is located in Dagang Town, Nansha District, Guangzhou, which is close to Nansha port and Pazhou. Warmly welcome to visit our showroom and factory.
Q: What range of product do you manufacture?
A: RO system, EDI system, UF system, Sewage water treatment and related accessories.
Q: Is OEM acceptable?
A: Yes, OEM is acceptable. We could produce as per your specific requirement.
Q: How to place order?
A: Send us requirement and inquiry--Get quotation--Confirm the order and PI--Arrange the deposit--Start the production and keep communication--video or photo inspection before loading--Arrange the balance before delivery--Arrange delivery.
Q: What information is needed before quotation?
A1. The quality of the water resource. Any water test report is appreciated.
A2: What is the required output capacity per hour?
A3: What is the application using the equipment?
If you have any questions, please do not hesitate to contact us!!!
Contact
Monica Liang- Purchasing consultant