Fermentation systems is made up of Fermentation Tank and Bright Beer Tank quantities are based on customer's request. According to different fermenting request, structure of fermentation tank be be designed accordingly.Generally Fermentation Tank structure is dished head and cone bottom,with Polyurethane installation and dimple cooling jackets .There is a cooling jacket on tank cone section,columnar part has two or three cooling jackets.This not only can meet the relevant requirements of cooling, guarantee cooling rate of fermentation tank, also help to precipitation and storage the yeast.
Tank internal and external wall are made of international quality standards of sanitary 304 stainless steel, the Polyurethane insulation thickness between the inner and outer is 50-200mm. Conic bottom install inlet and outlet pipes. Tank installation cleaning system, tank roof device, tank bottom device, rotating wine outlet tube, inflatable device, liquid level meter, sampling valve and other supporting valves, equipped with temperature sensor, with the help of PLC auto-control, the equipment can reach to automatic and semi-automatic control. The height of conic bottom is quarter of the total height. The ratio of tank diameter and height of tank is a quarter of the total height. The ratio of tank diameter and height of tank is 1:2-1:4, the cone angle usually between 60°-90°.

1. The images of fermentation tank.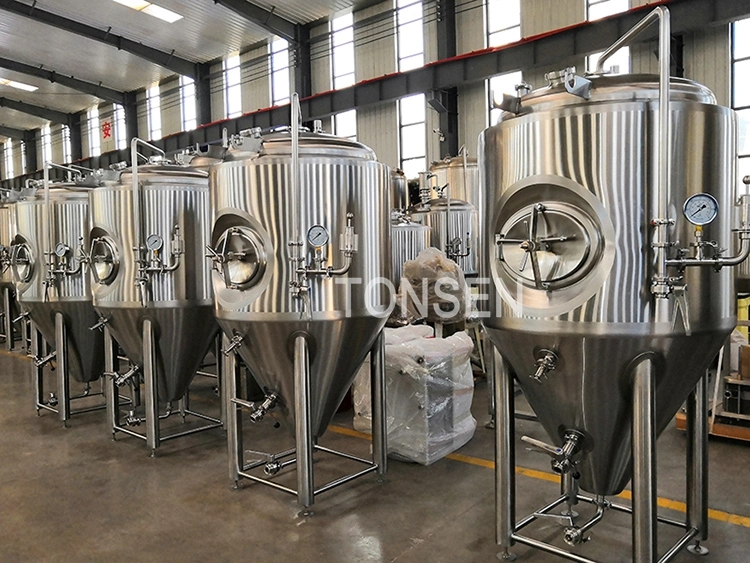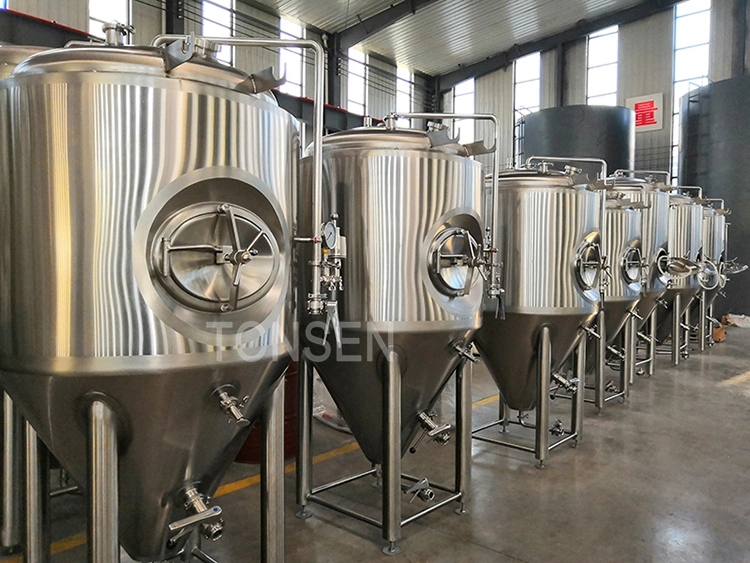 2. The details of fermentation tanks.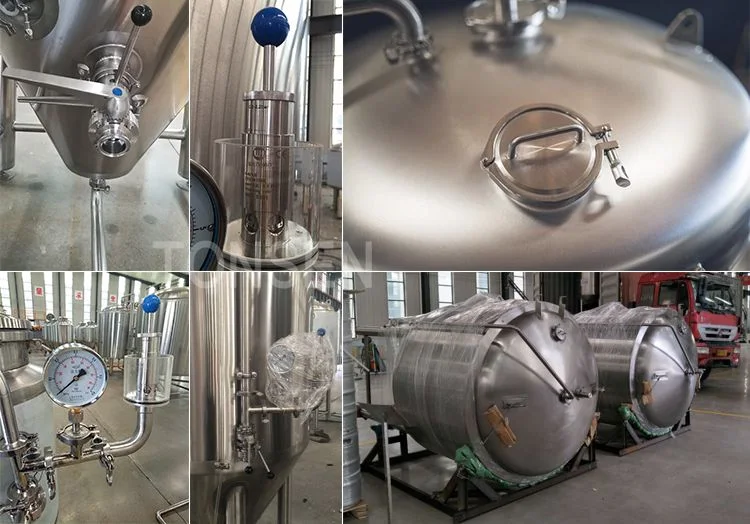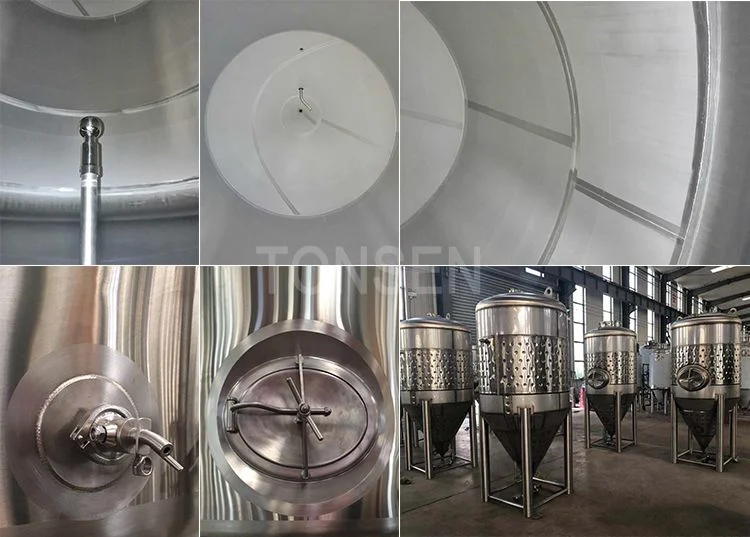 3. Main features of fermentation tanks.

1) Capacity:100 liter to 100000 liter as requirement.
2) Material: stainless steel 304/316 or red copper, as requirement.
3) General configuration: mill, brew house, fermentation, cooling and cleaning etc.
4) Heating principle: electric heating, steam heating, gas fire etc.
5) Electricity voltage/frequency can be customized.
6) Running in a high automatization and intellectualization,no pollution.

4. Parameters

1. Effective capacity: 500L/1000L/2000L
2. Dimple plate cooling jacket on tank body and conical bottom
3. Insulation: polyurethane, TH=80mm
4. Interior thickness: 3mm; Exterior thickness: 2mm
5. Dished head and taper angle 60°
6. Temperature sensor TP100
7. Side manhole with pressured door
8. With solenoid valve, breathing valve, pressure relief valve, sample valve, beer outlet valve, drain valve and accessories matched
9. Hops adding port
10. Inner tank mechanical polishing and out plate surface protection ribbon polished on welds
11. CIP 360°rotating spray device
12. Material: SUS304, brushed outer shell
13.4pcs completely SUS304 heavy duty legs with leveling pad
5. Certifications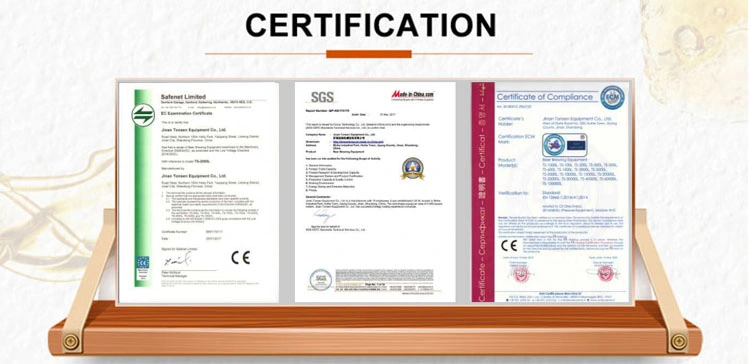 6. Packaging & Shipping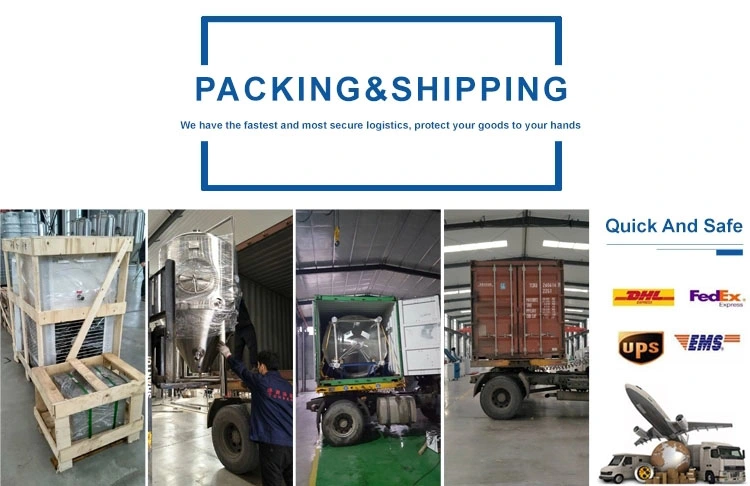 1) All tanks will be packed with soft protection material and mounted on steel frame
2) All accessories and spare parts will be packed with soft protection material and then put into iron box
3) After loaded into containers, all equipment will be fixed to the containers.
7. Our Services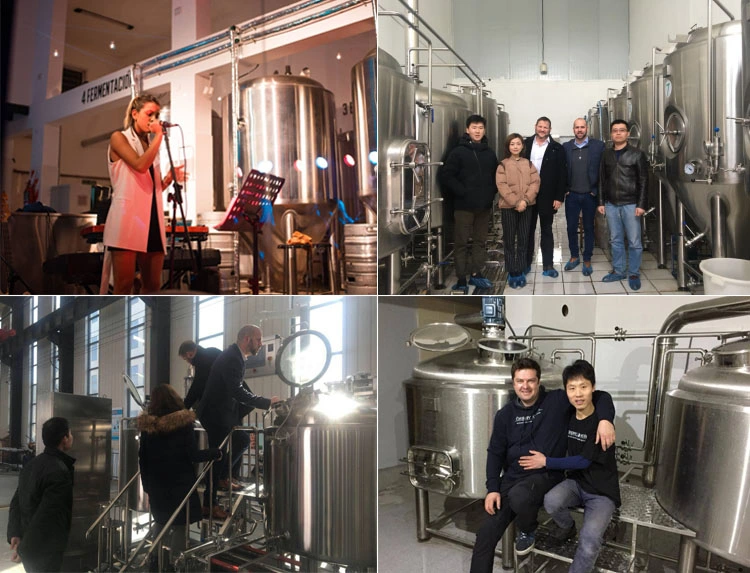 1.Free consultation service before, during and after sales.
2.Project planning and design the layout service.
3.Management of equipment's long distance shipping from seller's factory to named port or station by buyer.
4.Training of equipment maintenance and operation personally.
5.New production techniques.
8. Company Information