Fiberglass Reinforcement Polyester Grating
Bearing high load capacity,anti-corrosive performance, and more economical traits, Fiberglass gratings gain much popularity in different markets. Like it can be used as a structural material, and needed for flooring, corrosive environment, trench cover, platform, ship deck, stair, catwalks, etc, you could see it appears in everywhere.

1. Advantages
Corrosion Resistant
Aging Resistance
Free Maintenance
Light Weight
High Strength
Inflaming Retardant
2.Specifications
Part of our FRP grating Size as below. For more size information, pls contact with us.
Mesh Size
(mm)

Thickness
(mm)

Bar Thickness
Top/bottom (mm)

Standard Panel Size
(mm)

Open Rate
(%)

Weight
(Kg/m2)

38*38

25
7.0/5.0
1220x3660,1220x4040

68
12.7
40*40
25
5.0/3.0
1220x3660,1000x4040,1220*4025

66
12.5
43*43
25
5.0/3.0
1220x3660,1220x2440,1000*4040,1000x2000, 1220x4025, 1220x4025

64
10.5
38*38

30
7.0/5.0
1220*3660,1000*4040

68
15
40*40
30
5.0/3.0
1220*4040,1000*4040

66
14.5
38*38
38
7.0/5.0
1220*3660,1000*4040,1220*2440,1220*4040,1000*4040

68
19
40*40
38
5.0/3.0
1220*3660,1220*4920,1500*3660,1000*4040

66
18
50*50
50
7.0/5.0
1220*4015,1000*4040,1220*3660

78
21.2
53*53
50
7.0/5.0
1220*3660

77
22
19*19-38*38
25
7.0/5.0
1220*3660

40
16.6
25*25-50*50
25
6.0/5.0
1220*3660

40
15.5
25*25-50*50
25
6.0/5.0
1220*3660

40
18.6
19*19-38*38
38
7.0/5.0
1220*3660

40
23.7
3. Surface
You can choose a different type of surface according to your requirements
·Meniscus(Concave) surface
·Smooth surface
·Gritted surface
·Mini/micro mesh
·Leaf shaped cover
·Diamond top surface
·Gritted top cover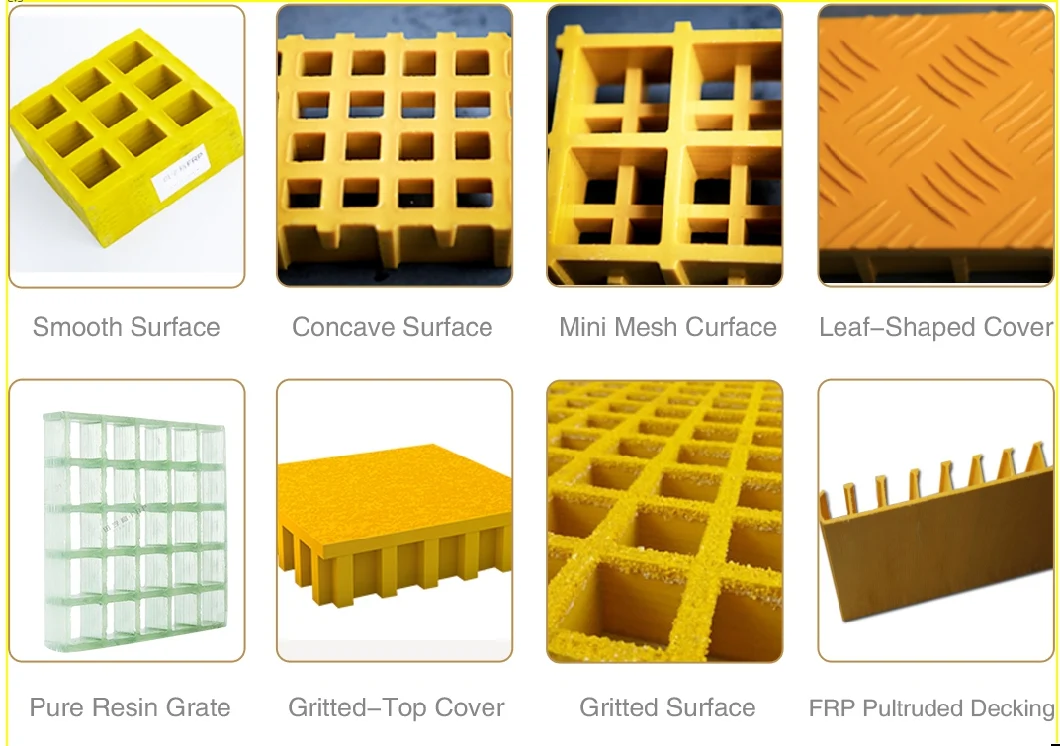 4. Application
Walkways,Platforms,Trench covers,Swimming pool,Staircase,Floorings,Foot Bridges,Fencing, car parking,Step Treads,Chemical, Food & Beverage Marine,Oil & Gas,Telecommunications,Industry,Buildings,Constructions,Pharmaceuticals,,Water & Waste Treatment,ShippingTransportation,Architectural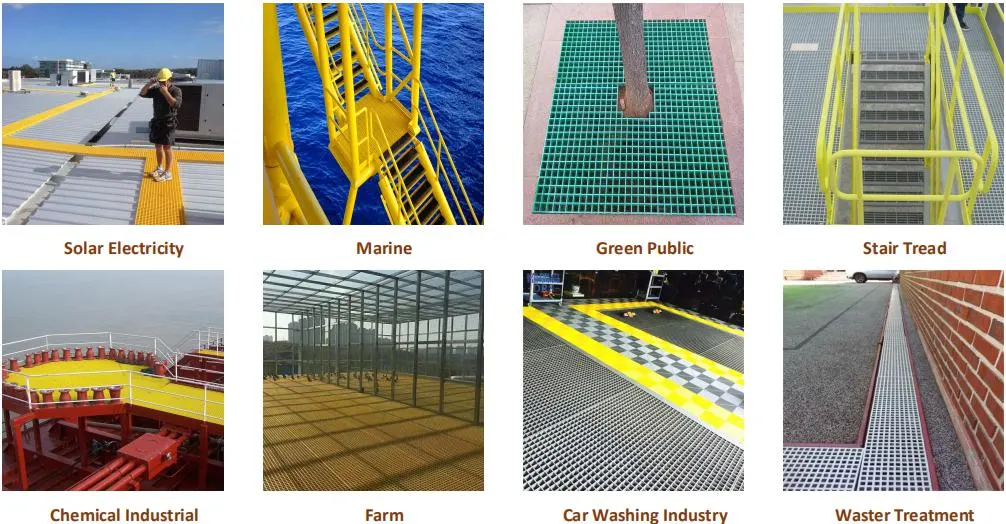 5. Factory
With our own factories, we can offer molded grating of high quality at the most reasonable price.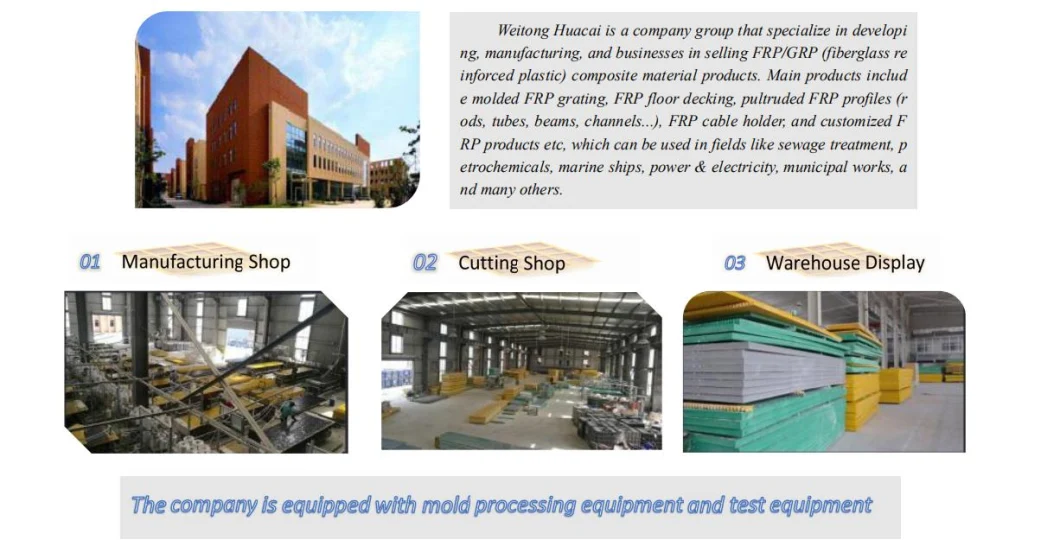 WTHC has been initially set up to focus on the domestic market, After several years of development and outreach of operations, we have gained much popularity in our domestic market, take Taobao for example,we have managed to be the number one seller. And also perform well in Pinduoduo, Tik Tok, Baidu.
For foreign market,due to its steady quality and reasonable price. Seasoned workers, Complete production line,Convenient transportation fortress, Stable raw materials replenishment, all of these guarantee our excellent products, fast delivery,and competitive prices.
Our products specializes in molded FRP gratings, pultruded FRP structure profiles, as well as PVC grating and so on. We believe mutual benefit and co-development can be established if you choose us....
6. Certificates
We've passed ISO 9001, SGS, CNAS, CE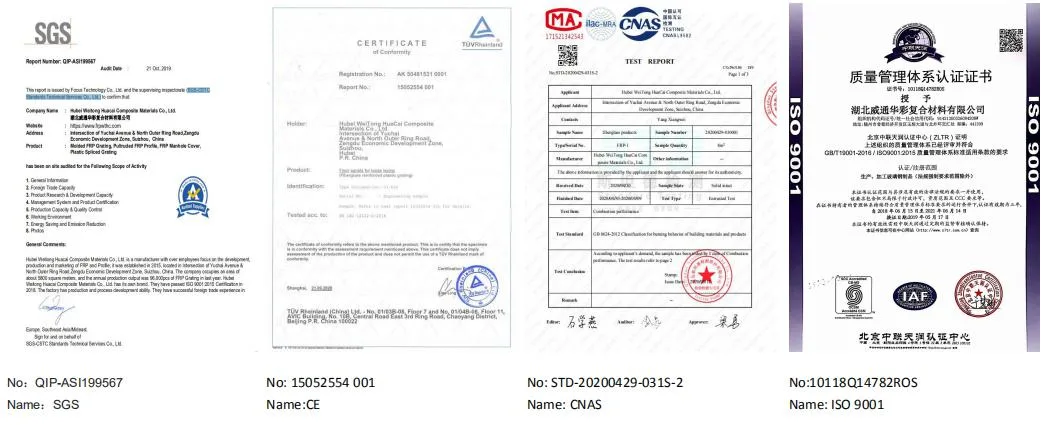 7. Clips
"L" Clip
For securing grating to support frames for moderate load
"M" Clip
To position grating on a support structure & restrain all movement.
"C" Clip
To connect two adjacent unsupported grating bars

8. FAQ
1. Why choose your company?
Since we are manufacturer So the factory price is lower than most of the companies, quality as well as delivery time could also be ensured.

2.Where is your factory located?
Our factory is located in Suizhou City, Wuhan Province, China.

3.What type of payment do you have available?
TT or L/C, As to sample order West union will be also acceptable.

4.Can I get some samples?
Yes! We would like to offer you samples.

5.How does your factory do regarding quality control?
Each products need be inspected before into the wherehouse.

6. How can I get a quotation?
As regard to an accurate quotation, the following information will be needed: application and thickness, Size, Surface treatment, order quantity and so on, the more detailed information , the better it will be. For some customized products, Drawings will be highly appreciated.


We do offer customized Fiberglass molded gratings to our clients on special request. You just need to provide your requirements to us.we will pleasant to design a solution to meet your demand.